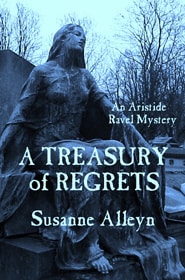 A Treasury of Regrets
For police agent and investigator Aristide Ravel, the teeming streets and alleyways of Paris are a constant source of activity. And in the unruly climate of 1797, when gold and food are scarce, citizens will stop at very little to get what they need.
When Jeannette Moineau, an illiterate servant girl, is accused of poisoning the master of the house where she works, Ravel cannot believe she is guilty of the crime. With stubborn witnesses, a mysterious white powder, and stolen goods all stacked against her, however, he knows it will not be easy to clear her of the charges. But he finds an unexpected ally in Laurence, a young widow of the house, whose past surprisingly intersects his own.
In a large household brimming with bickering and resentment, everyone seems to have a motive for poisoning old Martin Dupont. But as more family members begin to turn up dead, the list of suspects rapidly dwindles. Tensions rise and Ravel and Laurence must probe the secrets of the city's crafty politicians and confidence artists for clues to clear Jeannette's name. Finding information, though, in dissolute post-revolutionary Paris, can lead to costly and dangerous demands.
(90,000 words; ebook $3.99 USD)
Reviews of A Treasury of Regrets
Alleyn skillfully depicts her characters' flaws and strengths while plotting a fine puzzle mystery. If your patrons enjoy historicals and have not yet discovered Alleyn, put her latest on the must-read list. —Library Journal (starred review; also one of LJ's five best mysteries of 2007)
A Treasury of Regrets combines the best in history and mystery. Rather than treating revolutionary Paris simply as window-dressing, Alleyn makes good use of the historical setting, both in creating her plot and in creating her characters, several of whom have lost loved ones to the guillotine. The mystery itself is artfully plotted and compelling; I was in due suspense as to whodunit. —The Historical Novels Review
With a light, literate hand, Alleyn includes a wealth of detail about life in France during the Republican period, while ratcheting up the tension with every chapter. —Publishers Weekly
The author captures the atmosphere of a nation struggling toward a social and political unity untainted by the irrational violence and cruelty of those who toppled the monarchy. Ravel is a realistic and appealing observer of a developing society. —The Washington Times