The Historical Fiction Authors Cooperative, which has created HFeBooks.com, has always been committed to finding the highest quality historical fiction available in ebook form. Therefore we were not surprised––but very pleased––to announce that two of our members' books have advanced to the Quarter Finals in the Amazon Breakthrough Novel Awards. The two books are: Susanne Alleyn's The Executioner's Heir and J. L. Oakley's Tree Soldier.
♠♠♠♠
The Executioner's Heir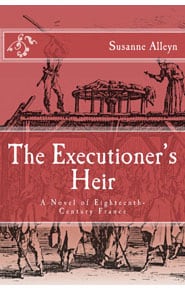 Charles-Henri Sanson has good looks, a fine education, and plenty of money: everything, in fact, that a stylish young Parisian could ask for. He also has an infamous family name—and he's trapped in a hideous job that no one wants.
The last thing Charles ever wanted to be was a hangman. But he's the eldest son of Paris's most dreaded public official, and in the 1750s, after centuries of superstition, people like him are outcasts. He knows that the executioner's son must become an executioner himself or starve, for all doors are closed to him; although he loathes the role and would much rather study medicine, society's fears and prejudices will never let him be anything else. And when disaster strikes, family duty demands that Charles take his father's place much sooner than he had ever imagined.
Miles outside Paris, high-spirited François de La Barre is the carefree teenager who Charles would like to have been, instead of the somber public servant, bound by the Sansons' motto of duty and honor, who carries out brutal justice in the king's name. François proves, though, in the elegant, treacherous world of prerevolutionary France, to have a dangerous gift for making enemies . . . and when at last their paths converge, in this true story of destiny and conflicting loyalties, Charles must make a horrifying choice.
♠♠♠♠
Tree Soldier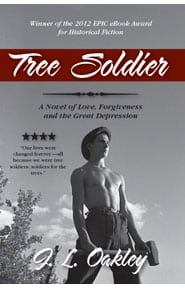 One mistake can ruin a life. One mistake can transform it. A government forestry camp set deep in the mountainous forests of the Pacific Northwest might not seem the likely place to find redemption, but in 1935, Park Hardesty hopes for just that.Blaming himself for the fiery accident that caused his brother's disfigurement and the death of the bootlegging woman he loved, planting trees, building bridges and mentoring tough, homesick New Jersey boys brings him both penitence and the renewal of his own self-worth.
When he wins the love of Kate Alford, a local naturalist who envisions joining the Forest Service, which allows only men, he also captures the ire of a camp officer who refuses to let her go. Just when he is ready to seek his brother's forgiveness, he is falsely accused of rape. Every aspect of his life he has tried to rebuild is put in jeopardy. In the end, the only way he can defend himself is to tell the truth about his brother, but he risks being kicked out of the camp. Worse, he could lose Kate's love forever.
♠♠♠♠
The rules of this contest state that at this point "Amazon customers may download and read any Excerpt, and then write a review and rate the Excerpt using Amazon.com's process for submitting online reviews…"
We encourage you to do so. Here are the links to the Amazon pages where these excerpts can be found. The Executioner's Heir  and  The Tree Soldier