Throughout history, people have regarded the profession of public executioner much as they regarded that of the undertaker. From the point of view of the layperson, the undertaker's job had a massive "ick" factor attached, usually originating from a superstitious dread of human corpses and, by extension, of the people who dealt with them. But the person who, in a formal judicial process, deliberately transformed a living person into a corpse was far worse.
So who would willingly choose to become an executioner, and choose to remain in the job?
While writing The Executioner's Heir, the first of two novels about the eighteenth-century Parisian executioner Charles-Henri Sanson, whose remarkable forty-year career and family history I'd been studying for nearly two decades, by chance I came across a British film called Pierrepoint: The Last Hangman (2005). I'd heard of Albert Pierrepoint, the most famous British executioner of the 20th century, but knew nothing about him.
Soon afterward, I read Pierrepoint's autobiography. It was fascinating material: Pierrepoint not only executed or assisted in executing a few hundred British murderers between 1931 and 1956, but, more notably, also traveled to Germany and Austria after World War II to hang many Nazi war criminals. What I didn't expect to discover, though, was that Albert Pierrepoint's essential motivations and attitude toward his "craft," as stated in his autobiography, so precisely matched the psychological makeup and motivations that I had already constructed, from my historical research, for my fictional portrayal of the real Charles Sanson.
There were many surface differences between the two men, of course, far beyond the separation of two centuries and two nations. Albert Pierrepoint (1905-1992), like most British hangmen of the nineteenth and twentieth centuries, came from a blue-collar background. Though both his father and uncle were hangmen, no social stigma attached itself to him for being related to executioners; in the first half of the twentieth century, in Pierrepoint's experience, the average British attitude seemed to have been one of cautiously friendly respect to a man who was, like a police officer, an upholder of law and order, mingled with mildly morbid curiosity.
In the 1930s, "official executioner" was definitely a part-time occupation, returning only expenses and a modest flat fee per engagement. Initially one of the most attractive elements of the job for him, Pierrepoint stated candidly, was the opportunity it provided him to see many other parts of Britain during the Depression, at a time when the working class couldn't dream of owning a car and only the well-off could afford frequent railway travel.
Charles-Henri Sanson (1739-1806), a fourth-generation executioner in a family that—like many others—passed its lucrative title down from father to son, lived in the manner of the wealthy eighteenth-century French bourgeoisie. The Sansons, descendants of a gentleman army officer turned unwilling executioner, considered themselves gentry, practically aristocratic. In prerevolutionary France, the master executioner of Paris was a high-ranking officer of the law courts, received a generous salary, held a formal title—Executor of High Works—granted him in the king's name by the Parlement (high court), and, as executioner for the capital city, enjoyed a great deal of prestige among colleagues who carried out their official functions in lesser towns.
Notwithstanding the Sanson family's pretensions to semi-nobility, most of the superstitious public still viewed the executioner and his household as the vilest and least desirable neighbors possible. The master executioner and his aides were responsible for all forms of public punishment, from shaming by exposure on the pillory to whipping and branding, from relatively humane hanging to the cruelest and most long-drawn-out forms of execution like breaking, burning, or quartering. For centuries throughout Europe, executioner's sons had inevitably had to become executioners themselves because no one else would ever think of giving them a job, or even of socializing with them; while their daughters, tainted by their fathers' trade, invariably married within the profession. Since the Middle Ages, the executioner's touch had been considered unclean, contaminated by death, torture, and contact with corpses, and only the most broad-minded or desperate would choose to mingle with him.
Despite the public revulsion toward the Sansons and their occupation, the few surviving contemporary accounts of Charles Sanson suggest that, aside from the official duties he was obliged to carry out, he was a remarkably decent, conscientious, and compassionate human being. Well educated, he had studied anatomy and medicine—not to improve torture techniques, but, like his father and grandfather before him, in order to maintain a sort of free clinic in which, when not at work, he doctored the poor who were willing to endure contact with the executioner in order to get the treatment they couldn't afford elsewhere. "His profession aside," an acquaintance whom Sanson had cured of a mysterious illness wrote about him, "he was a gentle, friendly, kindly man."
The greatest irony of a life full of ironies was that, after three decades of officiating at often horrific punishments under the absolute monarchy, Sanson became the most famous public executioner of the French Revolution. The Revolution, of course, soon abolished such cruel traditional execution methods as breaking on the wheel and replaced them with the democratic, reliable, and humane guillotine. This and other legal reforms must have greatly relieved Sanson for a time—until the political cataclysm of the Terror obliged him to execute more people with the guillotine than he had ever had to hang, break, or behead by sword in all his career before the Revolution. During 1793 and 1794, the "gentle, friendly, kindly man" would be ordered to behead his king and queen, a few minor royals, many prominent revolutionaries, and several of his own former bosses in the Parisian law courts, among about three thousand people convicted of various crimes, both heinous and petty, under the draconian emergency laws of the Terror.
So how did such a man keep his sanity, and justify his part in not only the savage cruelty of the prerevolutionary legal system but also in the sheer number of executions of the Terror in Paris, and in the frequent injustices that took place both before and during the Revolution? How could Sanson bring himself to put someone to death when he strongly suspected that that person had not deserved such a punishment?
The swelling number of death sentences in Paris during the last weeks of the Terror appalled him. Guillotining a record fifty-four people in one day, including an eighteen-year-old servant girl who, he stated, looked about fourteen, drove him to a four-day mental breakdown.  "I do not glorify myself with a sensitivity that cannot be mine," Sanson wrote in his diary soon afterward; "I have seen the suffering and death of my fellow men too often and too closely to be moved easily. If what I feel is not pity, it must be the result of a malady of my nerves; perhaps it is the hand of God punishing me for my cowardly obedience to that which so little resembles the justice I was born to serve? I do not know; but for some time now, every day, when the hour [to collect condemned prisoners] comes, a vertigo seizes me that holds me in its grip and cruelly tortures me . . . I feel a redoubling of the fever that night and day devours me; it is like fire flowing under my skin."
Why, in the midst of the bloodshed in 1794, consumed by guilt, didn't Sanson simply quit his job and honorably retire, as he did do a year later, well after the Terror had ended?
The easy answer was that, as he himself seemed to believe, he had grown hardened to horrors by decades in the profession—or that if he had given up his title, he would have found no other work or income elsewhere. And during the Terror, the revolutionary government found it all too convenient to "forget" to pay a civil servant who had no choice but to stay in his job because there was no chance of him getting another. If Sanson had quit, he would have had neither a job nor any hopes of reclaiming his back pay.
But I felt that the answer was not that easy. The honorable and conscientious Charles Sanson I had come to know through his diary and through others' opinions of him—the Charles Sanson whose obvious shame and self-loathing during the worst of the Terror was making him physically ill—would have been guided by something far more than a desire to recover his back wages.
I had already often considered these issues when I read Albert Pierrepoint's  autobiography and discovered statements in it that explained his own attitude toward his role in the twentieth-century British system of capital punishment. The British prided themselves on making judicial hanging a decorous, humane, quite painless procedure, streamlined to reduce the duration of the actual process—from condemned cell to noose and drop—to no more than twenty seconds. Pierrepoint took this swift process to its height, usually managing to trim the time down to eight or ten seconds while offering a reassuring word or two, if necessary, to the prisoner. To Pierrepoint, his hangman's craft was about professional detachment and expertise, always "getting it right" and getting it over with quickly so that the victim didn't suffer mentally or physically—and this attitude, he stated, was always combined with respect toward the victim, even after death.
"As the executioner," Pierrepoint wrote, "it has fallen to me to make the last confrontation with all the condemned. . . .  And it is at that moment, with their eyes on mine . . . that I have known that any previous emotional involvement I may have had with them [from reading about the criminal case in the newspapers] is to be regretted. There is only a final relationship which matters: in Christianity this is my brother or sister to whom something dreadful must be done, and I have tried always to be gentle with them, and to give them what dignity I could in their death."
Later in his autobiography he added: "I have gone on record and been many times quoted with apparent irony as saying that my job was sacred to me. That sanctity must be most apparent at the hour of death. A condemned prisoner is entrusted to me, after decisions have been made which I cannot alter. He is a man, she is a woman, who, the Church says, still merits some mercy. The supreme mercy I can extend to them is to give them and sustain in them their dignity in dying and in death. The gentleness must remain. The tough operator has no standing in the action. I have had assistants who have never seen this . . . and their attitude has jarred sharply against mine, so that some of the sharpest rebukes I have ever uttered have been given in the deserted execution chamber when we have been alone with our responsibility [of taking down and laying out the body]."
Pierrepoint's mature views on his "craft"—which clearly became very important to him as a task he could perform swiftly and expertly every time—exactly represented how I thought Charles Sanson had managed to cope with his always distasteful and sometimes horrible duties. During the ancien régime when criminal justice was often subjective and brutal, and even during the Terror, he must have relied on maintaining the same professional detachment, mingled with compassion, toward the condemned as Albert Pierrepoint would exhibit a century and a half later. And I came to the conclusion that Sanson, in the end, remained in his position as public executioner throughout the Terror because he, just like Pierrepoint, felt it was his duty—not to the law but to the victims, and even more so if they were the victims of injustice.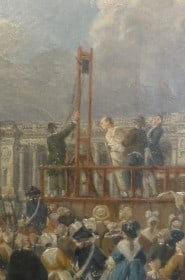 Sanson could not save the men and women—whether guilty or innocent—whom he was ordered to execute by both royal and revolutionary authorities, any more than Albert Pierrepoint, by refusing to carry out an execution, could have saved a prisoner sentenced to death for a murder he or she might not have committed. Sanson knew that if he resigned his title, another of France's many professional executioners would have swiftly taken his coveted place, and that the newcomer might not have been as considerate as he toward the dying. And because he could not save the victims, he must have felt strongly that it was, at the very least, his lifelong duty to offer them some final kindnesses: to carry out any last wishes that he could, such as returning a treasured possession to a victim's family; to be sure that the guillotine always worked without a hitch; to ensure that his assistants always treated the condemned with respect; to keep their last hours or moments from being any more dreadful than they had to be.
"I see [the condemned prisoner] as a person who has a fixed and stony path decreed before him from which I cannot divert him, and therefore all I can do is to help him tread it as gently as possible."
The words are Pierrepoint's, but they could just as easily have been Charles Sanson's.
Susanne Alleyn, October 22, 2013
The Executioner's Heir, about Charles Sanson's youth and early career, is Susanne Alleyn's latest novel. Susanne is the author of the Aristide Ravel series of historical mysteries set in 1780s/90s Paris, in which some of the Sansons make guest appearances. She is currently working on a fifth Ravel novel and on the sequel to The Executioner's Heir.
Photos:
(1) Albert Pierrepoint, probably 1950s
(2) Christopher Lee as a middle-aged Charles Sanson in La Révolution Française (1989). Sanson was described as tall, strong, and good-looking in the family history published by his grandson Clément, but no contemporary portrait exists of him.
(3) Pierre-Antoine Demachy, Une exécution capitale, place de la Révolution, detail (1793). The master executioner, respectably dressed in a cutaway coat, knee breeches, and white stockings—presumably Charles Sanson, or one of his brothers, who sometimes filled in for him—is at far right on the scaffold.