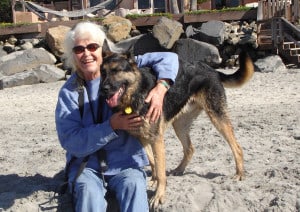 Ann Elwood lives in Cardiff-by-the-Sea, California, with four cats, a desert tortoise, six box turtles, and a German shepherd, Louis. She grew up in Saddle River, New Jersey. After college, she taught elementary school for a few miserable years, then moved to Philadelphia landed a job as a typist-clerk at the Philadelphia Bulletin. When her boss discovered she had difficulty typing up circulation figures with twelve carbons, she was fired and found another job writing copy for a paternalistic insurance company that offered a low salary and delicious free lunch. One of the typesetters had the magical ability to square up a stack of paper into a perfect cube.
Eventually she moved to a studio apartment on Irving Place in New York City, and, after a few months of writing copy for a textbook company, went on to freelance as a writer of anything anyone would pay her for. In 1967, she moved to Los Angeles, where she was advertising manager for a publishing company. Then the West Coast was a mecca for writers and adventurers. Within a couple of years, she visited a Malibu beach house, fell in love (long-distance) with Bob Dylan, met Thomas Pynchon (he wouldn't remember it), and saw Hair.
In 1972, she returned to freelancing. The following year she moved to Cardiff. She wrote articles for Irving Wallace and his son, David Wallichinsky, (People's Almanac and Book of Lists), and did other wonderful things she won't mention here. With Carol Orsag Madigan, she wrote several non-fiction books.
A desire to delve more deeply into ideas finally drove her to graduate school in 1981. Her dissertation focused on an order of 17th and 18th century French nuns so she had to spend a happy year in France doing research. While not in the archives, she drank local wine with fellow historians and traveled the country with her dog, Puppy, who had far less trouble than she did communicating with the French. Now, she teaches history part-time at California State University, San Marcos, spends time with Louis and the other animals, and writes the books she has always wanted to write but never had the time for.
Website/Twitter/Facebook/Goodreads
Works featured on this wesite: