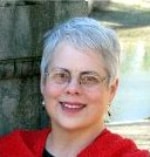 Beverle Graves Myers is a Kentucky native who has always loved stories and always asked "why." She studied History at the University of Louisville and went on to earn an MD degree and specialize in Psychiatry. After a decade in public mental health, Bev decided her chosen profession was more interesting in theory than practice and launched a mid-life career switch. Now she enjoys mixing murder, music, and intrigue in her Tito Amato Mysteries from Poisoned Pen Press. Set in dazzling, decadent 18th-century Venice, these novels feature Tito Amato, a castrato singer with a warm heart and a nose for justice. Whispers of Vivaldi is the latest title.
In an experimental collaboration with a fellow mystery author, Bev jumped to New York City in the early days of World War II. Face of the Enemy, co-authored with Joanne Dobson, follows a Japanese artist unjustly accused of murder on the eve of Pearl Harbor. It was released in 2012.
Bev also writes short fiction set in a variety of times and places. Most are mysteries, but she often lets her dark side creep out in sci-fi and horror tales. Her stories have appeared in Alfred Hitchcock Mystery Magazine, Futures, Spinetingler, Woman's World, and Crime City Central (audio). Bev's work has been nominated for the Macavity, Derringer, and Kentucky Literary Awards.
The sort of books Bev likes to read combine a unique voice with an interesting historical milieu and a dash of culture. Learning along with an entertaining read is always a plus, so the research has to be topnotch. Her favorite authors include Alan Bradley, Steven Saylor, Elizabeth Peters, and Robert Barnard. Bev and her husband have recently relocated to southwest Florida. When not reading or writing, she can often be found at the pool or taking her rascal beagle-basset hound for a walk. Carlo was named after Farinelli (Carlo Broschi), the greatest singer of the 18th century, and has a suitably soprano bark.
*********************************************************************************