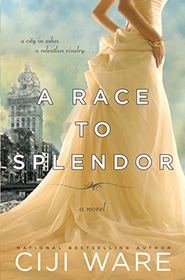 For twenty years before I started writing novels, I was a radio and television broadcaster in Los Angeles, having worked for all three national networks and the local PBS station during that "other" career. I find, eleven novels and two nonfiction books later, that the skillset I acquired in that former chapter of my life has stood me in remarkably good stead, whether I write contemporary or historical fiction.
Regardless of the genre, nothing annoys readers more than to see a misstatement or outright mistake in a book dealing with a subject that the purchaser knows about. Even worse, is to unwittingly to send falsehoods out into the Universe to the unsuspecting!
Perhaps my compulsion to do my best to get the details correct is because I come from a family of writers…my late father, his two brothers, my grandfather, and a host of scribes dating back at least to the end of the eighteenth century were writers. My dad, the late Harlan Ware, wrote novels, plays and screenplays, and some forty-five published short stories in the heyday of Colliers, Saturday Evening Post, College Humor, and other magazines that have disappeared in our digital age. However, he started his career at age eighteen as a newspaper crime reporter (Have you seen the film, The Front Page?) in an era when neophytes quickly learned the mantra "Who, What, Where, Why, How…and How Much?"
Dad used to point to our ancestor, William Ware, author of the 1897 historical Zenobia, with the remark, "He was writing about ancient times…so imagine how much research the poor guy must have done to get his facts right!"
Reporters learn early on that Truth is a defense again lawsuits for libel and slander, and likewise, people both living or dead deserve to be written about truthfully. When I was writing the contemporary sequel, That Autumn in Edinburgh, to my first historical novel, Island of the Swans, I tracked down a descendant of Jane Maxwell, the 4th Duchess of Gordon (1749-1812), who turned out to be the charming women, Catherine Maxwell, the 21st Lady of Traquair in the Scottish Borders (pictured in her dining room on the left). The Edinburgh novel also involved a character loosely based on the career of Ralph Lauren (pictured on the right), which necessitated that I read a number of magazine articles and two biographies, even though the majority of "Bernard Sterling's" actions and personal traits were my own invention. To convince our readers join us in another world of our invention, we have to convince them we know what we're writing about.
The point of all this is that for authors willing to spend the time to dig out the piece-by-piece facts of the setting, professions, background, or psychology (in other words, the "who, what, where, when, why, how and how much") involved in a work of fiction, the end product will be richer, by far, than merely sticking with a cursory Google search or Wikipedia!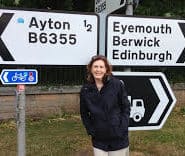 For this former reporter, there has been no substitute for going there; however, if that's not possible, take the time and trouble to drill down deeply when you do an Internet search on a subject, time period, or environment. 'Live' interviews—even just on the phone–with people who know more about a subject that you do can be hugely helpful.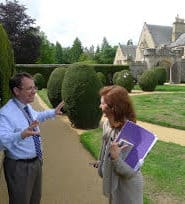 I've contacted fighter pilots by phone; genealogy experts by snailmail; museum directors in person (above see me interviewing Jason Dyer, the former head of the Sir Walter Scott house in at Abbotsford, Scotland). My advice? Be brave! Make cold calls to the experts. You'd be surprised how flattered they often are that you're interested in their subjects.
Finding that perfect nugget of information or that needle-in-a-haystack fact isn't rocket science, but it does require being a bulldog of sorts. This may not be news to many of you, but I check out specialized and regional libraries, historical societies, re-enanctment groups, house museums and shops (with their guide books, costume books, etc.); used books shops (including cookbooks, decorative art books, technical manuals, etc); specialized organizations, university librarys and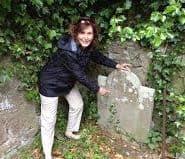 museums that have rare books, personal letters, diaries, maps, wills and inventories, birth, death, military records, playbills, contemporary newspapers, magazines and periodicals. Keep a sharp eye out for those wonderful specialists in their fields you stumble across when you least expect it. (I met a military ex-drone mechanic at breakfast on a cruise ship when I sat down at an empty seat!) I even watch feature films on particular subjects– although be sure to verify any facts you glean from watching them! Always be on the lookout for the "telling detail."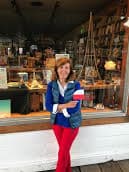 Contemporary or historical, I've found that weaving truth and imagination into a believable whole is the joy of the work we do. When we novelists bother to do our homework to "get it right" even when we're making it up, we portray the meaning of life as well as the mere facts that surround it.
Ciji Ware, July 31, 2017
_______________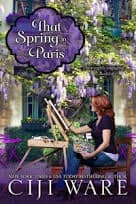 Ciji Ware is a New York Times & USAToday bestselling author and Emmy-award winning news producer of 13 published works of fiction and nonfiction. A graduate of Harvard University in History, among her many writing awards: she was made a Fellow of the Antiquaries of Scotland (FSAScot) and won the Dorothy Parker Award of Excellence for Island of the Swans; was bestowed the Silver Gavel from the American Bar Association for magazine journalism; and was shortlisted in 2012 for the WILLA (Cather) Literary Award for A Race to Splendor. Her most recent novel is the contemporary That Spring in Paris, set in 2015–a spin-off from her historical novel, A Race to Splendor, set in the year following the 1906 San Francisco earthquake and firestorm. She lives in the San Francisco Bay Area. Visit Ciji at www.cijiware.com , www.facebook.com/cijiwarenovelist , and see her research photos for all her novels at www.pinterest.com/cijiware