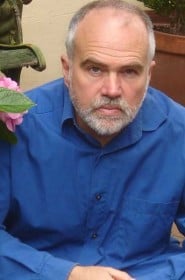 G. S. Johnston is an author of two novels, The Skin of Water and Consumption, noted for their complex characters and well-researched settings.
In one form or another, Johnston has always written, at first composing music and lyrics. After completing a degree in pharmacy, a year in Italy re-ignited his passion for writing and he completed a Bachelor of Arts degree in English Literature. Feeling the need for a broader canvas, he started writing short stories and novels.
Originally from Hobart, Tasmania, Johnston currently lives in Sydney, Australia with a cat – wayward Rose – and Miss Mia, a black and white cuddle dog.
He is presently finishing a new historical fiction novel, The Cast of Troppmann's Hand. It's a murder/mystery based in Paris in 1869. A young man killed a family of eight, or did he?
He would be impressed with humanity if someone could succeed in putting an extra hour in every day.
Website / Facebook / Goodreads / Twitter
Historical Fiction eBooks featured in this website
Other ebooks by this author