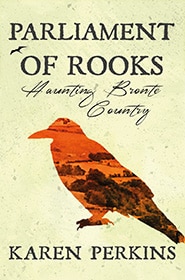 Haworth has a great deal to offer today's visitors, including a working steam railway, the iconic cobbled high street (thankfully lined by a myriad of interesting shops and teashops that provide very pleasant rest stops along the climb), and of course wonderful walks through the stunning moorland that makes up so much of Brontë Country.
As a booklover, I can think of no more inspiring place than the home of my literary heroines, Charlotte, Emily and Anne Brontë, and I visit as often as I can. The Brontë Society and Parsonage Museum has lovingly re-created their home, demonstrating how they lived their lives, from the tiny books they created as children for their toy soldiers to 'read', to the dining room table they circled as they discussed their latest writings.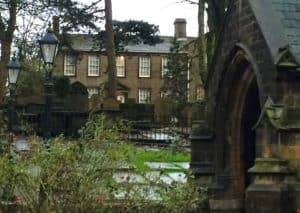 Surrounding the parsonage is the most atmospheric churchyard I've ever visited, and it is shocking to see first-hand just how much death surrounded the three young writers throughout their lives. Over 40,000 people are thought to be buried within that woefully inadequate patch of land, some in graves twelve deep.
Researching my latest novel, Parliament of Rooks, Haunting Brontë Country, I was shocked to discover what life was like in the time of the Brontë sisters: an existence dominated by disease and a daily struggle for survival against the odds.
In 2017 life expectancy in the UK is 81.
In Haworth in 1848 – the year Branwell, Emily and Anne Brontë died – the average lifespan was 21.7 years.
That's right, in celebrating your 22nd birthday, you would have outlived most of your family, friends and neighbours.
Reverend Patrick Brontë, the sisters' father, presided over all those funerals – more than one a week – and was the first to work out why life expectancy was so dire, and it was as a result of his petitions and letters that the General Board of Health dispatched Superintending Inspector B. H. Babbage from London to the Chapelry of Haworth to investigate in 1850. He confirmed Reverend Brontë's theory that contaminated water, together with atrocious living and working conditions, was to blame for this devastating loss of life.
Remember the atmospheric – and overcrowded – churchyard? It's positioned just above the Black Bull, one of the main public houses in the village, and also the location of one of the village's main sources of drinking water in the 19th century. The pure, clean water from the moors filtered through the densely packed cemetery into one of only seven wells which served the 2,500 people living in Haworth. Another of these wells was situated next to the morgue, and the water was reportedly so filthy there even the cows refused it.
There was no sewerage system, waste simply ran down the high street; a problem compounded by the lack of privies – at least one was shared by 24 families, and as it was also in full view of the high street, it wasn't exactly 'privy' either!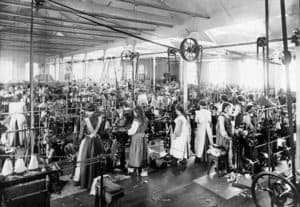 Not surprisingly, cholera, typhoid and dysentery were regular visitors to the village, but they were not alone. Families lived in close quarters, often sharing six or more to a room, giving diseases such as TB, scarlet fever and smallpox easy access to more victims.
Life was little better at work. Apart from the tradespeople, quarrymen and farmers, the majority of Haworth's inhabitants worked in the woollen industry. The men mainly worked at home, combing the wool ready for the mills or weaving the yarn coming out of the mills.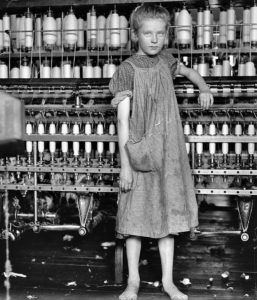 The mills themselves were mostly staffed by women and children working twelve hours a day or more. Queen Victoria introduced registration of births, deaths and marriages in 1837, which meant anybody born before then had no way of proving their age, and children as young as five were sent to the mill to work as mule rats. They crawled around under relentless moving machinery, with no safety measures whatsoever, to sweep away the dust and loose wool fibres.
No wonder a 22nd birthday was something to celebrate.
Learning about Haworth's history has been a humbling experience, and has given me a new respect and admiration for not only the Brontë family and their novels, but to all the men, women and children whose lives were dominated by the mills that made up so much of the West Yorkshire and Lancashire landscapes.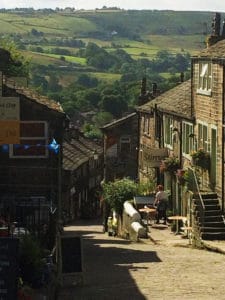 Because of them, Britain led the industrial revolution and clothed most of the world in woollens and cottons. Because of them, we are protected by health and safety laws. Because of them, the standard working day reduced from 12 hours, to 10 hours, to 8. Because of them, our children go to school rather than the factory floor. Because of them, our life expectancy has almost quadrupled.
Because of them, we are here today.
Karen Perkins, March 27, 2017
Parliament of Rooks, Haunting Brontë Country is now available in paperback, Kindle and ebook, with the audiobook coming soon.
Click here to go to Karen Perkins' website and find out more, along with all the links to purchase.
Or your local Amazon: http://geni.us/PofRkpa