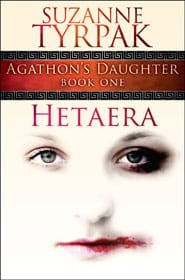 Hetaera: Suspense in Ancient Athens
Hetaera: Suspense in Ancient Athens, is Book One of the Agathon's Daughter Trilogy. Born a bastard and a slave, Hestia has a gift: the power to read people's hearts. And yet, the secrets of her own heart remain a mystery. Hestia's keen intellect makes her a match for any man. But even a literate slave has little control over destiny. Sold to a prominent statesman with sadistic tendencies, Hestia becomes his hetaera (consort). As her wealth and fame increase so does her despair. She dreams of freedom, but she faces enemies at every turn. When Hestia is accused of murder the mystery of her past unravels and fate takes another turn.
(Word count 65,883; ebook price $2.99 USD)
 *******************************************************
Foreword by Tess Gerritsen. New York Times Bestselling Author, Rizzoli and Isles
"Powerful writing makes itself known within a few paragraphs. That's how quickly I realized that Suzanne Tyrpak is a writer of extraordinary talent, when I read the first chapters of Agathon's Daughter during a writing workshop in Maui. I was the instructor, Suzanne was a student, yet I knew immediately that this was not a student's writing. This was polished, riveting work, lushly descriptive and fraught with tension. I wanted to read the rest of this story. I wanted this to be a book.
Now that book is here, and I'm delighted that other readers can savor the story that I've awaited so eagerly over the past few years. Agathon's Daughter is a tale told by a writer who deserves your attention, a writer who certainly captured mine."