Once a week the Historical Fiction Authors Cooperative posts the books in our catalog that are newly free, discounted, or published. If you want to make sure you get notified in a timely matter, please subscribe to our blog.
Short Term Freebies and Discounts: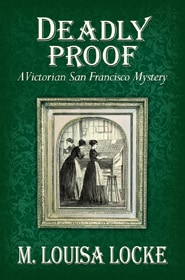 Deadly Proof (A Victorian San Francisco Mystery) by M. Louisa Locke
It's the summer of 1880, and once again the lovely and inquisitive businesswoman, Annie Fuller, is helping San Francisco lawyer and beau, Nate Dawson, with a troublesome case. Nate's client, a female typesetter accused of murdering her boss, refuses to help in her own defense. Complicating matters, Nate's sister Laura insists on getting involved in the potentially dangerous investigation, while Laura's friend Seth Timmons, troubled Civil War veteran, finds himself a witness for the prosecution. Will Nate be able to win his first big case? Will Laura and Seth find some way of becoming friends? And finally, will Annie and Nate's upcoming nuptials be derailed by their attempts to track down a killer?
Old friends and new readers alike will enjoy Deadly Proof, this fourth installment of the cozy Victorian San Francisco Mystery series that blends light romance, suspense, and a glimpse into the lives of late 19th century women who worked
Free on Kindle, iTunes, Nook, Kobo, GooglePlay until 4/28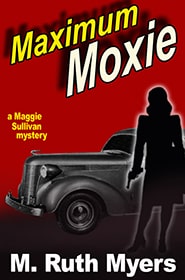 Maximum Moxie (A Maggie Sullivan Mystery) by M. Ruth Myers
Days before the Pearl Harbor attack plunges the U.S. into World War II, private eye Maggie Sullivan is hired to find a missing engineer in Dayton, Ohio. Has Gil Tremain been kidnapped, or has he turned traitor — to his employer and maybe his country?
As Maggie pieces together his last movements, she finds there are secrets the man's ex-wife and his employers don't want uncovered. Maggie herself is attacked and an innocent witness is murdered. The ruthlessness of her opponent — or opponents — becomes even clearer when there's an attempt to abduct Tremain's young daughter. Still more chilling, Maggie's investigation suddenly attracts the attention of a local crime kingpin.
The attack on Pearl Harbor presses every cop in the city into service protecting manufacturing and research facilities. Stunned by the knowledge their nation will soon be at war, even fearful the mainland itself will be bombed, people cling to family and friends. Schedules and routines shatter. Amid the disruption, alone and aware she can't count on help from the police, Maggie races to save a man who has now become a liability to his captors.
99 cents on Kindle, iTunes, Nook, Kobo until 4/30
It's 1864 in downtrodden Lowell, Massachusetts. The Civil War has taken its toll on the town—leaving the economy in ruin and its women in dire straits. That is, until Asa Mercer arrives on a peculiar, but providential, errand: he seeks high-minded women who can exert an elevating influence in Seattle, where there are ten men for every woman. Mail-order brides, yes, but of a certain caliber.
Schoolmarmish Josephine, tough-as-nails Dovey, and pious perfectionist Sophronia see their chance to exchange their bleak prospects for new lives. But the very troubles that sent them running from Lowell follow them to the muddy streets of Seattle, and the friendships forged on the cross-country trek are tested at every turn.
Just when the journey seems to lead only to ruin, an encounter with a famous suffragist could be their salvation. But to survive both an untamed new landscape and their pasts, they'll need all their strength—and one another.
$1.50 on Kindle until 4/30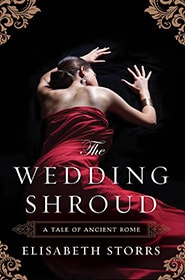 The Wedding Shroud by Elisabeth Storrs
In 406 BC, to seal a tenuous truce, the young Roman Caecilia is wedded to Vel Mastarna, an Etruscan nobleman from Veii. Leaving her militaristic homeland, Caecilia is determined to remain true to Roman virtues while living among the sinful Etruscans. But, despite her best intentions, she is seduced by a culture which offers women education, independence, sexual freedom and an empowering religion. Enchanted by Veii, but terrified of losing ties to Rome, Caecilia performs rites to delay becoming a mother, thereby postponing true entanglement. Yet as she develops an unexpected love for Mastarna, she is torn between her birthplace and the city in which she now lives.
The Wedding Shroud is the first book in the Tales of Ancient Rome series and was judged runner-up in the 2012 Sharp Writ Books Award for general fiction. The second book in the series, The Golden Dice, is now available. The third book, Call to Juno, will be released in April 2016.
$1.50 on Kindle until 4/30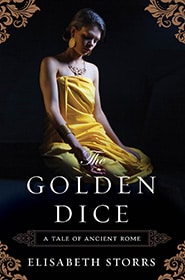 The Golden Dice by Elisabeth Storrs
During a bitter siege between Rome and the Etruscan city of Veii, three women follow very different paths to survive.
Caecilia,  Roman born but Etruscan wed, forsakes Rome to return to her Etruscan husband, Vel Mastarna, exposing herself to the enmity of his people while knowing the Romans will give her a traitor's death if Veii falls. Semni, a reckless Etruscan servant in the House of Mastarna, embroils herself in schemes that threaten Caecilia's son and Semni's own chance for love. Pinna, a destitute Roman prostitute, uses coercion to gain the attention of Rome's greatest general at the risk of betraying Caecilia's cousin.
Each woman struggles to protect herself and those whom she loves in a dark cycle of war. What must they do to challenge Fate? And will they ever live in peace again?
The Golden Dice is the sequel to The Wedding Shroud. It was judged runner- up in the 2013 Sharp Writ Book Awards in general fiction, and was named as one of the top memorable reads of 2013 by Sarah Johnson,the reviews editor for Historical Novels Review. The third volume, Call to Juno, will be released in April 2016.
$1.50 on Kindle until 4/30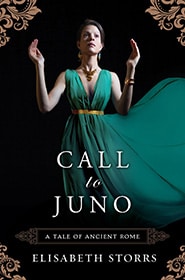 Call to Juno by Elisabeth Storrs
Four unforgettable characters are tested during a war between Rome and Etruscan Veii.
Caecilia has long been torn between her birthplace of Rome and her adopted city of Veii. Yet faced with mounting danger to her husband, children, and Etruscan freedoms, will her call to destroy Rome succeed?
Pinna has clawed her way from prostitute to the concubine of the Roman general Camillus. Deeply in love, can she exert her own power to survive the threat of exposure by those who know her sordid past?
Semni, a servant, seeks forgiveness for a past betrayal. Will she redeem herself so she can marry the man she loves?
Marcus, a Roman tribune, is tormented by unrequited love for another soldier. Can he find strength to choose between his cousin Caecilia and his fidelity to Rome?
Who will overcome the treachery of mortals and gods?
$1.50 on Kindle until 4/30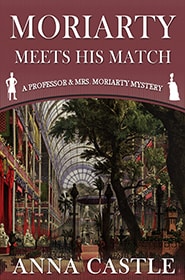 Moriarty Meets His Match by Anna Castle
Professor James Moriarty has but one desire left in his shattered life: to prevent the man who ruined him from harming anyone else. Then he meets amber-eyed Angelina Gould and his world turns upside down.
At an exhibition of new inventions, an exploding steam engine kills a man. When Moriarty tries to figure out what happened, he comes up against Sherlock Holmes, sent to investigate by Moriarty's old enemy. Holmes collects evidence that points at Moriarty, who realizes he must either solve the crime or swing it for it himself. He soon uncovers trouble among the board members of the engine company and its unscrupulous promoter. Moriarty tries to untangle those relationships, but everywhere he turns, he meets the alluring Angelina. She's playing some game, but what's her goal? And whose side is she on?
Between them, Holmes and Angelina push Moriarty to his limits — and beyond. He'll have to lose himself to save his life and win the woman he loves.
99 cents on Kindle  until 5/1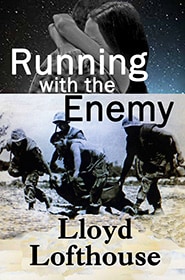 Running with the Enemy by Lloyd Lofthouse
Blamed for a crime he did not commit while serving in Vietnam, his country considers him a traitor. In "Running with the Enemy", Ethan Card is a loyal US Marine desperate to prove his innocence or he will never go home again, and the woman he loves and wants to save from two sociopaths was trained to kill Americans.
99 cents on Kindle, Nook, iTunes, Kobo until 6/17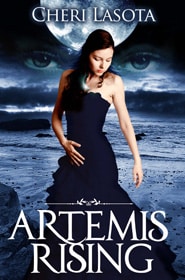 Artemis Rising by Cheri Lasota
Torn between her father's Catholicism and her mother's Pagan beliefs, Eva finally chooses Paganism. She accepts the name of Arethusa but learns too late that her life will mir­ror the Greek nymph's tragic fate. When they sail to the Azores Islands, her mother tells her that the ful­fill­ment of her des­tiny rests with Diogo, the shipowner's son. But Eva sees a vision of another…
When the ship founders off the Azores, Tristan, a young Azorean, saves her. Destined to be with Diogo and aching for Tristan's for­bid­den love, Eva must some­how choose between them, or fate will soon choose for her.
Free for a limited time on Instafreebie
The Thinara King by Rebecca Lochlann
Ash, earthquakes, and tsunamis devastate Crete. The will of the survivors fades as the skies remain dark and frost blackens the crops. Aridela must find a way to revive the spirit of her people along with rebuilding her country's defenses.
More threats loom on the horizon–Greek kingdoms who see a weakened Crete as easy prey. And now, Chrysaleon, he who carries the ancient title of The Thinara King, feels the shadow of Death over his shoulder. Will he thwart his fate? No other man ever has.
99 cents in these ebookstores for a limited time.
⊕⊕⊕⊕
New Publications: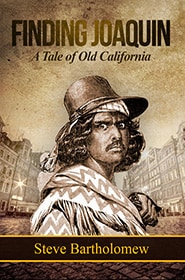 Finding Joaquin; A Tale of Old California by Steve Bartholomew
In 1852, Joaquin Murietta is Gold Rush California's most notorious bandit. The Rangers are hunting for him, with promise of a sizable reward. Ira Beard, a bounty hunter from New York, also decides to go after Joaquin. He has only two men in his posse, but encounters a Spanish lady who will save his life three times. Who will get to Joaquin first, and is that really Joaquin's head in a bottle?
Available on Kindle 
Legend of the Pendragon by Sarah Woodbury
Cade and his companions have reached the final reckoning. He must either rise to the promise of his birth and become the legend that prophecy foretold—or face the ultimate destruction of his country and his people. 
Legend of the Pendragon is the eighth and final installment in The Last Pendragon Saga.
Available on Kindle, Nook, iTunes, Kobo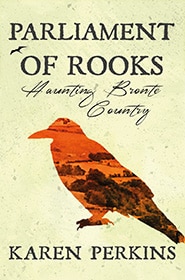 Parliament of Rooks: Haunting Bronte County by Karen Perkins
No matter how hard life is, humanity has the power to make it better – or worse.
Parliament of Rooks, the new historical paranormal novel in the award-winning Yorkshire Ghosts series, contrasts the beautiful, inspiring village of Haworth today with the slum – or rookery – it was during the industrial revolution: rife with disease, heartache, poverty, and employing child slavery in the mills.
In 2017, life expectancy in the UK is 81.
In 1848 Haworth, it was 22.
Haunting Brontë Country
Nine-year-old Harry Sutcliff hates working at Rooks Mill and is forever in trouble for running away to the wide empty spaces of the moors – empty but for the song of the skylark, the antics of the rabbits, and the explorations of Emily Brontë. Bound together by their love of the moors, Emily and Harry develop a lasting friendship, but not everyone is happy about it – especially Martha, Harry's wife.
As Martha's jealous rages grow in ferocity, Harry does not realise the danger he is in; a danger that also threatens Verity and her new beau, William, 150 years later. Only time will tell if Verity and William have the strength to fight off the ghosts determined to shape their lives, or whether they will succumb to an age-old betrayal.
Available on Kindle Nook Kobo iTunes
⊕⊕⊕⊕
Permanently Free or Discounted:
Libi Astaire, The Tempest in the Tea Room (A Jewish Regency Mystery Book 1), is Free on Kindle, iTunes, Nook, Kobo
Anna Castle, Murder by Misrule (The Francis Bacon Mystery Series Book 1) is Free on Kindle, Apple, Kobo, Nook
Rebecca Lochlann, The Year-God's Daughter (The Child of the Erinyes, Book 1)  is Free in most ebookstores
Louisa Locke, Maids of Misfortune: Victorian San Francisco Mystery (Book 1)is Free on Kindle, Nook, Apple, KoboGooglePlay
Ruth Myers, No Game for a Dame (Maggie Sullivan Mysteries 1) is Freeon Kindle, Nook, Apple, Kobo
JJ Toner, Zugswang (a Saxon short story) is Free on Kindle, Apple, Kobo, Nook, Smashwords
Sarah Woodbury, The Good Knight (Gwen and Gareth Medieval Mystery Book 1) is Free in Kindle, iTunes, Nook, Kobo
Sarah Woodbury, The Last Pendragon (The Last Pendragon Saga Book 1) is Free on Kindle, Apple, Kobo, Nook, GooglePlay
*****
Peg Herring, MacBeth's Niece, 99 cents on Kindle
Beverle Graves Myers, Interrupted Aria-A Tito Amato Mystery, 99 cents in selected ebookstores
Ann Parker, Silver Lies (Silver Rush Mysteries Book 1) is 99 cents in selected ebookstores
Pricilla Royal, Wine of Violence (A Medieval Mystery #1), 99 cents in selected ebookstores.
Sarah Woodbury, Cold My Heart (The Lion in Wales Book 1), 99 cents in selected ebookstores.