Once a week the Historical Fiction Authors Cooperative posts the books in our catalog that are newly free, discounted, or published. If you want to make sure you get notified in a timely matter, please subscribe to our blog.
Short Term Freebies and Discounts: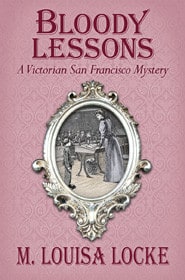 Bloody Lessons by M. Louisa Locke
In Bloody Lessons, it's the winter of 1880, and the teachers of San Francisco are under attack: their salaries slashed and their competency and morals questioned in a series of poison pen letters.
Annie Fuller, the reluctant clairvoyant, has been called in to investigate by Nate Dawson, her lawyer beau, and the case becomes personal when they discover that Laura, Nate's sister, may be one of the teachers targeted for attack.
In this installment in the Victorian San Francisco Mystery series, readers will find the same blend of a cozy mystery and romantic suspense, played out against the historical backdrop of late 19th century San Francisco, that they found in Maids of Misfortune and Uneasy Spirits.
If you are new to this series, you will still enjoy spending time with the lively residents of Annie Fuller's boarding house and visiting San Francisco when Golden Gate Park was filled with horse-drawn carriages, politics were controlled by saloon-keepers, and kisses were stolen under gaslight.
Free on Kindle, iBooks, Nook, Kobo, GooglePlay until 2/15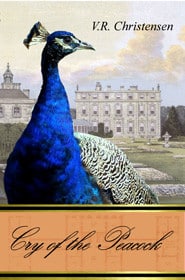 Cry of the Peacock by V. R. Christensen
An illustrious marriage, a fortune, a position of wealth and influence. These are the dreams and ambitions of any Victorian woman of sense. Or are they?
Perhaps not for Arabella Gray.
The death of Abbie's father, the overseer of a large country estate, leaves her without means or resources, without, even, a place to live. Her landlords, in an extraordinary display of charity, invite her to live at Holdaway Hall. But the invitation is as puzzling as it is generous. Why are the Crawfords, who have never paid her any notice before, so concerned with her wellbeing now?
It's a question the younger Crawford brothers would like to have answered as well. Certainly Miss Gray is a mercenary upstart. Certainly their brother is mad for fancying himself in love with her. Such a union would make them a laughing stock. They mean to put a stop to it, but when they learn that her past is closely—even disturbingly—connected with their own, they are brought up short, forced to ask themselves some very hard questions.
As Abbie herself soon learns, there is a great mystery at the heart of her landlords' extraordinary offer. Everything she has ever dreamt of might be hers for the taking, but is the price worth it? More than her happiness alone rests upon her decision. If she refuses Ruskin Crawford's offer of marriage, will she be able to live with the consequences? If she does, will she be able to live with herself?
In the end, all must ask themselves some very hard questions. What does it mean to be a man or woman of honor and integrity? What does it mean, after all, to be a gentleman? And what, exactly, is the price of a woman's heart?
Available on Kindle 2/15-16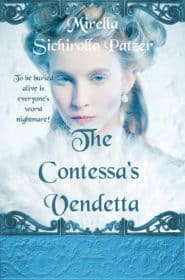 The Contessa's Vendetta by Mirella Sichirollo Patzer
To be buried alive is everyone's worst nightmare.
A deadly plague is killing thousands in 17th century Vicenza Italy. Contessa Mancini struggles to protect her family and servants, but despite her precautions, she is the one who falls prey to the deadly illness. Her body is tossed into a coffin and swiftly buried in the underground, dank confines of her family's vault.
But Contessa Mancini is not dead. No, she is very much alive. She awakens terrorized, trapped in dense darkness surrounded by the flimsy wood of the coffin they buried her in. Desperate, she claws and kicks until she escapes its stifling restraint, only to find herself trapped in the mausoleum with the decaying bodies of her ancestors. As she seeks to escape, she discovers a vast treasure of gold, silver, and gems secretly hidden in the vault by brigands, and the secret tunnel they used to hide it there.
Free at last, she returns home to her beloved husband, her best friend, and her darling daughter. But before she reveals herself to her loved ones, she learns of an endless series of lies, deceits, and betrayal. As she unravels the labyrinth of shocking treachery, her wrath breathes life to an overwhelming need for vengeance. Slowly, meticulously, she launches her diabolocial vendetta.
The Contessa's Vendetta is a retelling of the classic novel, Vendetta by Marie Corelli. Inspired by this epic story, the author weaves her own captivating tale in a new setting, a new century, and with new plot twists while remaining faithful to the key story elements.
Free on Kindle 2/16-18
Artemis Rising by Cheri Lasota
Torn between her father's Catholicism and her mother's Pagan beliefs, Eva finally chooses Paganism. She accepts the name of Arethusa but learns too late that her life will mir­ror the Greek nymph's tragic fate. When they sail to the Azores Islands, her mother tells her that the ful­fill­ment of her des­tiny rests with Diogo, the shipowner's son. But Eva sees a vision of another…
When the ship founders off the Azores, Tristan, a young Azorean, saves her. Destined to be with Diogo and aching for Tristan's for­bid­den love, Eva must some­how choose between them, or fate will soon choose for her.
Free for a limited time on Instafreebie
⊕⊕⊕⊕
New Publications:
Some people who have experienced a shocking, dangerous, or terrifying event develop Post Traumatic Stress Disorder. It is recognized today as a debilitating but potentially treatable mental health condition. Military veterans are a vulnerable group. But PTSD can deliver a knockout blow to anyone, as the remarkable unfolding of the tenth Alafair Tucker Mystery, Forty Dead Men, shows.
World War I is over. Alafair is overjoyed that her elder son, George Washington Tucker, has finally returned home from the battlefields of France. Yet she is the only one in the family who senses that he has somehow changed.
Gee Dub moves back into his old bunkhouse quarters, but he's restless and spends his days roaming. One rainy day while out riding he spies a woman trudging along the country road. She's thoroughly skittish and rejects his help. So Gee Dub cannily rides for home to enlist his mother in offering the exhausted traveler shelter.
Once made comfortable at the Tucker farm, Holly Johnson reveals she's forged her way from Maine to Oklahoma in hopes of finding the soldier she married before he shipped to France. At the war's end, Daniel Johnson disappeared without a trace. It's been months. Is he alive? Is she a widow?
Holly is following her only lead – that Dan has connected with his parents who live yonder in Okmulgee. Gee Dub, desperate for some kind of mission, resolves to shepherd Holly through her quest although the prickly young woman spurns any aid. Meanwhile, Alafair has discovered that Gee Dub sleeps with two cartridge boxes under his pillow – boxes containing twenty "dead men" each. The boxes are empty, save for one bullet. She recognizes in Gee Dub and Holly that not all war wounds are physical.
Then Holly's missing husband turns up, shot dead. Gee Dub is arrested on suspicion of murder, and the entire extended Tucker family rallies to his defense. He says he had no reason to do it, but the solitary bullet under Gee Dub's pillow is gone. Regardless, be he guilty or innocent, his mother will travel any distance and go to any lengths to keep him out of prison.
Available on Kindle, iBooks, Nook,
Wild Justice  by Priscilla Royal
It is Spring 1282. England is at war again with Wales. As Baron Hugh of Wynethorpe, a veteran of fighting in Outremer, prepares to join his King's army, he begs his sister, Prioress Eleanor, a favor. On her journey home to Tyndal Prior in Norfolk, she is to carry a gift of rents from the Wynethorpe estates to Mynchen Buckland Priory. The charter for the grant and a private letter are to be given to the Hospitaller nuns' Prioress Amicia, and none other. Eleanor agrees – if Hugh is heading into the Welsh wilderness, then she, Eleanor, will do him this service as well as pray for his protection.
When she and her party of Brother Thomas and Sister Anne arrive in cold and rain-sodden Somerset, they receive a chilly welcome. Then the new Prioress at Mynchen Buckland delivers shocking news: Amicia has been imprisoned, convicted of murdering a widow from the village in the priory's cloister, and awaits sentencing by the Prior of England, the Order of the Hospital of Saint John of Jerusalem's regional head in London. Eleanor gives Hugh's grant to newly elected Prioress Emelyne, but insists she must obey her brother's wishes by having an audience with Amicia in her cell. Eleanor is resolute in wishing to fulfill her promise by delivering Hugh's letter into Amicia's hands. Permission is granted.
Eleanor is unprepared for Amicia's terribly frail condition. And more so when Amicia reads the Baron's letter, then tearfully begs Tyndal's prioress to prove her innocence, claiming she did not commit the crime. Eleanor believes her.
In an unfamiliar place, the murder victim buried, and nothing left at the crime site, what can the Tyndal trio unearth? And how can they prolong their visit? Eleanor has it – she fakes a fall and injury to her ankle which requires nursing. Thomas and Anne will have to be her investigators, though they are closely chaperoned by members of the Mynchen Buckland community. Still, they learn the dead woman's unsavory behavior had made her well hated. Will anyone help uncover the real killer when so many welcomed the victim's death?
Available on Kindle, Nook, iTunes
Heroes at the Ford: A Tale of Ireland in the Age of Iron by Richard Sutton
A young Welsh squire is sent to the Ulster Court for training in arms, just as the Mor's wrath against Connaught reaches a boiling point. He falls under the care of a hero with an odd nickname who would later become a legend and learns firsthand, what the favor of the gods is truly worth.
Now available on Kindle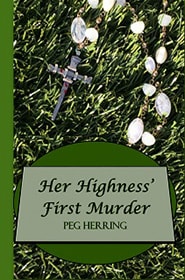 Her Highness' First Murder by Peg Herring
When headless corpses are found on the streets of London, Elizabeth Tudor joins with crippled Simon Maldon and a member of the Welsh Guard to stop the killer. The king does not know of his daughter's involvement, but the killer soon does.
New edition now available on Kindle, iBooks, Nook, Kobo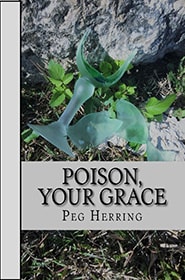 Poison, Your Grace by Peg Herring
As England's young king struggles with illness, one of his advisors is poisoned. Elizabeth Tudor, fearing her brother was the target, asks her old friend Simon Maldon to investigate the crime. The times are dangerous, and so is the killer who roams Whitehall Palace.
New edition now available on Kindle, iBooks, Nook, Kobo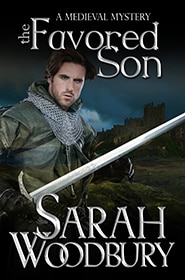 The Favored Son by Sarah Woodbury
November 1147. Gareth and Gwen have again been called to a castle belonging to Robert, Earl of Gloucester, this time by Prince Henry, who insists his uncle was murdered. Allying with Normans doesn't come easily to Gareth and Gwen, but initial doubts are swept aside as more losses come to light. Because Robert's death has upended the balance of power in England, friends and foes alike have a vested interest in keeping the truth from coming out, and it is up to Gareth and Gwen to stop the killer before he claims another victim–and maybe a country.
The Favored Son is the tenth Gareth & Gwen Medieval Mystery.
Now Available on Kindle, iTunes, Nook, Kobo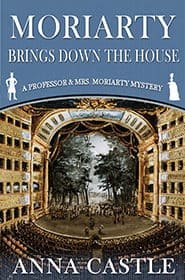 Moriarty Brings Down the House by Anna Castle
An old friend brings a strange problem to Professor and Mrs. Moriarty: either his theater is being haunted by an angry ghost or someone is trying to drive him into bankruptcy. That would shut down his Christmas pantomime before it opens, throwing two hundred people out of work. The Moriartys can't let that happen! Besides, Angelina is longing to play the lead in a West End show and James needs a bigger challenge than yet another high-stakes game of whist.
But the day they move into the theater, the stage manager dies. It wasn't an accident; it also was most definitely not a ghost. While Angelina works backstage turning up secrets and old grudges, James follows the money in search of a motive. The pranks grow deadlier and more frequent. Then someone sets Sherlock Holmes on the trail, trying to catch our sleuths crossing the line into crime. How far will Moriarty have to go to keep the show afloat? And will they all make it to opening night in one piece?
Now Available on Kindle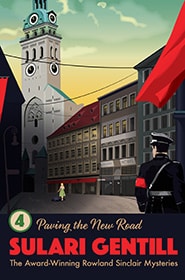 Paving the New Road by Sulari Gentil
It's 1933. No less than Europe, Britain, or America, Australia contends with the Left, mostly Communists but also Socialists, and a rising Right, Fascists. Rowland Sinclair, bohemian younger son of the wealthy, influential, conservative clan headed by his powerful brother, Wilfred, has tangled with New South Wales' Right before. It did not go well.
New Guard leader Eric Campbell, the man who would be Australia's Führer, is currently in Britain "consorting with Sir Oswald Mosley," the leading British Fascist, making connections over cocktails in aid of bringing European Fascism to Australia. Campbell will soon be moving on to Germany to meet members of the Reichstag and, he hopes, Hitler.
The Australian way of life is not undefended. Old enemies have united to undermine Campbell's ambitions. Senator Charles Hardy, now a leading member of this unofficial Old Guard, brings Rowly a proposal. Their man in Munich, Peter Bothwell, who was to keep an eye on Campbell, has been killed. Rowly's mission is to investigate Bothwell's death and, while at it, do his best to derail Campbell. The Old Guard already has one Blanshard in place, serving as Campbell's interpreter, but he needs backup.
Hardy threatens to appeal to Wil to go if Rowly refuses. So he agrees. Making the trip by legs in famous airman Sir Charles Kingsford Smith's plane is a plus. Another is that his unconventional housemates, the poet (Jewish), the painter (Communist), and the sculptress (unpredictable), insist on coming along to watch his back. It's not your expected spy ring. Their cover, aside from false passports, is they are buying art. Lots of Dada art – at the Old Guard's expense.
In Munich the friends pursue their joint missions while growing increasingly horrified at the goose-stepping euphoria, cruel acts, and book burnings of the rising Nazi movement. Yet they meet decent Germans like the tailor Alois Richter who's pursuing contracts for Nazi uniforms against rival Hugo Boss, and brave Albert Göring, Hermann's younger brother. And two besotted women: Unity Mitford, who stakes out the Osteria Bavaria every day at eleven a.m. intent on meeting her idol Hitler; and a photographer called Eva Braun, a rather ordinary young woman who's besotted with a man she calls Mr. Wolf.
Now Available on US Kindle and UK Kindle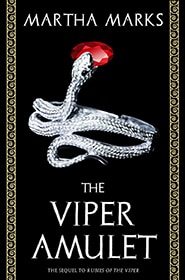 The Viper Amulet by Martha Marks
AD 56 — Disgraced and impoverished, Theodosia Varro flees Italy with the man she loves. As Emperor Nero's agents pursue her, they escape to a place that should offer safety and peace, only to find an unexpected rival.
Conflicts mount as Theodosia battles known and unknown enemies who put her life and family at risk. Ultimately, she ventures into a foreign land whose culture she does not understand—and into a brutal war zone—to salvage what remains of her dreams.
Now Available on Kindle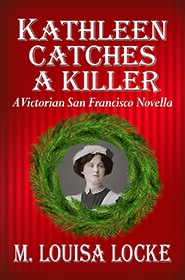 Kathleen Catches a Killer by M. Louisa Locke
It's the very end of December, 1880, and the servant Kathleen Hennessey expects to spend a quiet week taking care of the O'Farrell Street boarding house while her employers, Annie and Nate Dawson, are off spending the Christmas holidays with Nate's family.
However, when she agrees to help out one of her friends, Kathleen discovers that a simple case of a servant being dismissed without notice has turned into a complicated puzzle that she is determined to solve.
While featuring minor characters from Locke's Victorian San Francisco mystery series, Kathleen Catches a Killer contains all the light romance, humor, and suspense of the longer works. Chronologically, this novella comes right after the events in Pilfered Promises, which is currently Free.
Now Available on Kindle  iTunes  Nook  Kobo  GooglePlay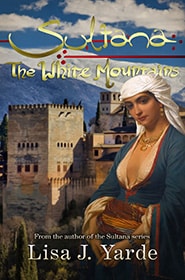 Sultana: The White Mountains by Lisa Yarde
Book #6 of the Sultana series. 
In fifteenth-century Moorish Spain, Moraima, wife of the last Sultan of Granada faces an uncertain future. Her husband's realm endures terrible odds in battles against dangerous foes. The united Catholic monarchs Isabella of Castile and Ferdinand of Aragon gain ground steadily, encroaching upon Granada, while dynastic rivalries fracture the Moorish kingdom from within the palace. How can Moraima ensure the survival of her family, shattered by warfare and betrayal?
Now available on Kindle 
⊕⊕⊕⊕
Permanently Free or Discounted:
Libi Astaire, The Tempest in the Tea Room (A Jewish Regency Mystery Book 1), is Free on Kindle, iTunes, Nook, Kobo
Anna Castle, Murder by Misrule (The Francis Bacon Mystery Series Book 1) is Free on Kindle, Apple, Kobo, Nook
M. Louisa Locke, Maids of Misfortune: Victorian San Francisco Mystery (Book 1)is Free on Kindle, Nook, Apple, KoboGooglePlay
Ruth Myers, No Game for a Dame (Maggie Sullivan Mysteries 1) is Freeon Kindle, Nook, Apple, Kobo
JJ Toner, Zugswang (a Saxon short story) is Free on Kindle, Apple, Kobo, Nook, Smashwords
Sarah Woodbury, The Good Knight (Gwen and Gareth Medieval Mystery Book 1) is Free in Kindle, iTunes, Nook, Kobo
Sarah Woodbury, The Last Pendragon (The Last Pendragon Saga Book 1) is Free on Kindle, Apple, Kobo, Nook, GooglePlay
*****
Peg Herring, MacBeth's Niece, 99 cents on Kindle
Beverle Graves Myers, Interrupted Aria-A Tito Amato Mystery, 99 cents in selected ebookstores
Ann Parker, Silver Lies (Silver Rush Mysteries Book 1) is 99 cents in selected ebookstores
Pricilla Royal, Wine of Violence (A Medieval Mystery #1), 99 cents in selected ebookstores.
Sarah Woodbury, Cold My Heart (The Lion in Wales Book 1), 99 cents in selected ebookstores.