Once a week the Historical Fiction Authors Cooperative posts the books in our catalog that are newly free, discounted, or published. If you want to make sure you get notified in a timely matter, please subscribe to our blog. 
Short Term Freebies and Discounts: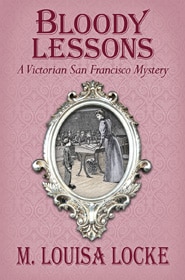 Bloody Lessons: A Victorian San Francisco Mystery Book 3 by M. Louisa Locke
In Bloody Lessons, it's the winter of 1880, and the teachers of San Francisco are under attack: their salaries slashed and their competency and morals questioned in a series of poison pen letters.
Annie Fuller, the reluctant clairvoyant, has been called into investigate by Nate Dawson, her lawyer beau, and the case becomes personal when they discover that Laura, Nate's sister, may be one of the teachers targeted for attack.
In this installment in the Victorian San Francisco Mystery series, readers will find the same blend of a cozy mystery with romantic suspense, played out against the historical backdrop of late 19th century San Francisco, that they found in Maids of Misfortune and Uneasy Spirits.
If you are new to this series, you will still enjoy spending time with the lively residents of Annie Fuller's boarding house and visiting San Francisco when Golden Gate Park was filled with horse-drawn carriages, saloon-keepers controlled politics, and kisses were stolen under gaslight.
Free on Kindle  iTunes  Kobo  Nook  GooglePlay until 3/3
The Thinara King by Rebecca Lochlann
Ash, earthquakes, and tsunamis devastate Crete. The will of the survivors fades as the skies remain dark and frost blackens the crops. Aridela must find a way to revive the spirit of her people along with rebuilding her country's defenses.
More threats loom on the horizon–Greek kingdoms who see a weakened Crete as easy prey. And now, Chrysaleon, he who carries the ancient title of The Thinara King, feels the shadow of Death over his shoulder. Will he thwart his fate? No other man ever has.
99 cents in these ebookstores for a limited time.
⊕⊕⊕⊕
New Publications: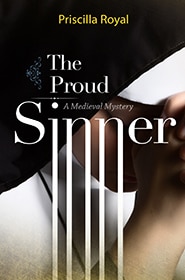 The Proud Sinner: Medieval Mystery Book 13 by Priscilla Royal
In the winter of 1282, snow and ice ravage East Anglia while Prioress Eleanor awaits the decision of her young maid, Gracia, found starving on the streets some years ago, whether to take vows or to leave Tyndal Priory to make her way in the world.
But a far greater problem arrives at the priory gate. Seven abbots are riding to meet a papal legate in Norfolk. This is not a pilgrimage-each abbot hopes to make a case for being raised to a bishopric at the next vacancy. One abbot grows so ill the party has detoured to Tyndal. And despite the limited care Sister Anne can offer, Abbot Ilbert dies a horrible death, cause unknown. As his fellows prepare to resume their journey the next day, Abbot Tristram doubles over in great distress. By now the heavy snows have choked all the roads and the priory and village are marooned. Tristram dies. And then another abbot sickens while Sister Anne struggles to determine what killed these men-which question soon becomes not just what, but who did it?
One suspect is the gluttonous Odo, the ambitious Abbot of Caldwell and younger brother of Crowner Ralf. Since everyone despises Odo, is he simply a red herring? Prioress Eleanor is determined to stop the carnage that has shattered the tranquility in her priory while the Crowner must enforce the king's justice. Brother Thomas and Sister Anne form part of the investigation which plumbs the priory's kitchens and management as well as its medical facilities.
The Proud Sinner, 13th in the Medieval Mysteries by Priscilla Royal, illustrates medieval matters medical and culinary as well as vocations for the religious life in a framework that crosses Chaucer's Canterbury Tales with Agatha Christie's And Then There Were None.
Now Available on Kindle, Nook, Kobo, iTunes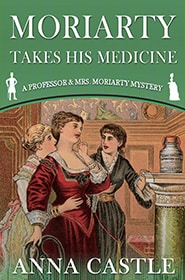 Moriarty Takes His Medicine A Professor & Mrs. Moriarty Mystery (Book 2) by Anna Castle
Professor & Mrs. Moriarty tackle a case too ticklish for Sherlock Holmes to handle on his own…
James and Angelina Moriarty are settling into their new marriage and their fashionable new home — or trying to. But James has too little to occupy his mind and Angelina has too many secrets pressing on her heart. They fear they'll never learn to live together. Then Sherlock Holmes comes to call with a challenging case. He suspects a prominent Harley Street specialist of committing murders for hire, sending patients home from his private hospital with deadly doses or fatal conditions. Holmes intends to investigate, but the doctor's clientele is exclusively female. He needs Angelina's help.
While Moriarty, Holmes, and Watson explore the alarming number of ways a doctor can murder his patients with impunity, Angelina enters into treatment with their primary suspect, posing as a nervous woman who fears her husband wants to be rid of her. Then a hasty conclusion and an ill-considered word drive James and Angelina apart, sending her deep into danger. Now they must find the courage to trust each other as they race the clock to win justice for the murdered women before they become victims themselves.
Join the Moriartys for the second adventure in the series hailed as "A must for Sherlock enthusiasts" by Midwest Book Reviews.
Now available on Kindle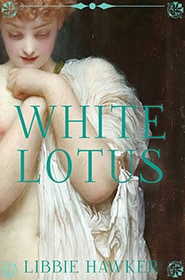 White Lotus by Libbie Hawker
In the fifth century BCE, Egypt is the greatest civilization known to mankind. But with a foolish king on its throne, the Nile Valley is ripe for conquering.
Amid this climate of danger and strife, in the alleys and brothels of Memphis, an extraordinary young woman comes of age. To spare her siblings from starvation, Doricha is sold into prostitution. But she has gifts beyond mere beauty. Through wit and determination, she works her way into the realm of the hetaerae—courtesans of exceptional refinement.
As a hetaera, Doricha has access to the schemes and negotiations that shape the world. But the rich and powerful also have access to her, and Doricha soon finds herself in the Pharaoh's harem, caught up in his reckless plans. When the Pharaoh sends her off to his fiercest enemy, thinly cloaked by a dangerous ruse, Doricha must become a double agent if she hopes to survive. Caught between the Pharaoh and the Persian king Cambyses, it is Doricha—once a slave, now a woman of great but secret power—who will determine Egypt's fate. Blending ancient fable with true history, White Lotus brings Egypt's downfall to life.
Now available on Kindle, Nook, Kobo, iTunes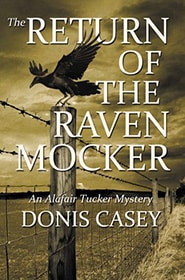 The Return of the Raven Mocker by Donis Casey
World War I is raging in Europe, but as the deadly influenza pandemic of 1918 sweeps like a wildfire through Boynton, Oklahoma, Alafair Tucker is fighting her own war. Her daughter, Alice, and son-in-law, Walter Kelley, have both come down with the flu, and Alafair has moved into town to care for them after quarantining her young children at their sister's farm. Boynton as a whole isolates itself like an old English plague village, discouraging anyone from coming into town and the residents from traveling outside. A new doctor applies science to treating the stricken, but Alafair applies all she knows about hygiene, nutrition, and old and trusted country remedies. Unable to aid her sons and sons-inlaw fighting overseas, this is danger she can combat.
One autumn afternoon, screams coming from next door alert Alafair that Alice's neighbor, Nola Thomason, and her son Lewis have suddenly and unexpectedly succumbed. Yet there is something about the way the pair died that causes Alafair to suspect their deaths were due to poison rather than to influenza. The epidemic is so overwhelming that it is many days before the only doctor left in town can confirm Alafair's suspicions; neither Nola nor Lewis died of the flu. The only witness to their deaths, twelve-year-old Dorothy Thomason, a special friend of Alafair's daughter, Sophronia, is so traumatized that she is rendered mute. Were Nola and her son murdered, and if so, why?
The usual motives for murder are greed, or jealousy, or hatred. Or could it be, as Alafair fears, that the Raven Mocker, the most dreaded of the Cherokee wizards or witches, the evil spirit who takes to the air in a fiery shape to rob the old, the sick, and the dying of their lives, is hunting victims and bringing misery to the innocent?
Now available on Kindle, iTunes, Nook, Kobo
⊕⊕⊕⊕
Permanently Free or Discounted:
Libi Astaire, The Tempest in the Tea Room (A Jewish Regency Mystery Book 1), is Free on Kindle, iTunes, Nook, Kobo
Anna Castle, Murder by Misrule (The Francis Bacon Mystery Series Book 1) is Free on Kindle, Apple, Kobo, Nook
Rebecca Lochlann, The Year-God's Daughter (The Child of the Erinyes, Book 1)  is Free in most ebookstores
Louisa Locke, Maids of Misfortune: Victorian San Francisco Mystery (Book 1)is Free on Kindle, Nook, Apple, KoboGooglePlay
Ruth Myers, No Game for a Dame (Maggie Sullivan Mysteries 1) is Freeon Kindle, Nook, Apple, Kobo
JJ Toner, Zugswang (a Saxon short story) is Free on Kindle, Apple, Kobo, Nook, Smashwords
Sarah Woodbury, The Good Knight (Gwen and Gareth Medieval Mystery Book 1) is Free in Kindle, iTunes, Nook, Kobo
Sarah Woodbury, The Last Pendragon (The Last Pendragon Saga Book 1) is Free on Kindle, Apple, Kobo, Nook, GooglePlay
*****
Peg Herring, MacBeth's Niece, 99 cents on Kindle
Beverle Graves Myers, Interrupted Aria-A Tito Amato Mystery, 99 cents in selected ebookstores
Ann Parker, Silver Lies (Silver Rush Mysteries Book 1) is 99 cents in selected ebookstores
Pricilla Royal, Wine of Violence (A Medieval Mystery #1), 99 cents in selected ebookstores.
Sarah Woodbury, Cold My Heart (The Lion in Wales Book 1), 99 cents in selected ebookstores.