Once a week the Historical Fiction Authors Cooperative posts the books in our catalog that are newly free, discounted, or published. If you want to make sure you get notified in a timely matter, please subscribe to our blog.
Short Term Freebies and Discounts:
Timber Rose by J. L. Oakley
907. Women climbing mountains in skirts. Loggers fighting for the eight hour day. The forests and mountains of the North Cascades are alive with  progress, but not everyone is on board.
Caroline Symington comes from a prominent family in Portland, Oregon. Much to her family's dismay, she's more interested in hiking outdoors and exploring the freedoms of a 1907's New Woman than fancy parties and money. She plans to marry on her own terms, not her parents. When she falls in love with Bob Alford, an enterprising working-class man who loves the outdoors as much as she, little does she know how sorely her theories will be tested. Betrayed by her jealous sister, Caroline elopes, a decision that causes her father to disown her.
The young couple moves to a rugged village in the North Cascade Mountains where Caroline begins a new life as the wife of a forest ranger. Though she loves her life in the mountains as a wife and mother, her isolation and the loss of her family is a challenge. As she searches for meaning among nature, she's ushered along by a group of like-minded women and a mysterious, mountain man with a tragic past.
Eventually, her relationship with her mother and sister improves and things seem to be taking a turn for the better. That relationship is tested again when her uncle and her sister's ruthless ex-husband muscle their way into the national forest, threatening the nature she loves, and more importantly, the man she loves. Though Caroline desires to reconcile with her family, she knows she must take a stand.
Timber Rose, the prequel to the award-winning Tree Soldier, is about gilded society, thugs and big timber meeting the newly formed Forest Service, mountaineering clubs and a young woman's desire to make her own way in a changing world.
Free on Kindle until 7/13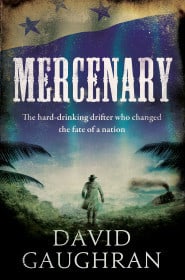 Mercenary by David Gaughran
Lee Christmas gets drunk and falls asleep at the throttle of his locomotive, plowing straight into an oncoming train. Blacklisted from the railroad and his marriage in tatters, he flees New Orleans on a steamer bound for the tropics.
In Honduras, he begins a quiet new life. But trouble has a way of finding Christmas. With unrest sweeping the countryside, he's kidnapped by bandits. Soon, he finds himself taking sides in an all-out civil war–as leader of the rebellion.
MERCENARY is the story of the USA's most famous soldier of fortune: the hard-drinking drifter who changed the fate of a nation.
Free on Kindle July 10-14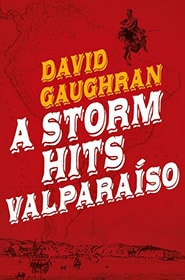 A Storm Hits Valparaiso by David Gaughran
Catalina Flores de la Peña's tongue got her in more trouble than any other part of her body, even though there were far more likely candidates. But when a storm rolls into her sleepy port town, she finds herself embroiled with a gang of adventurers, mercenaries, and prostitutes on a journey to free South America from the Spanish Empire.
A Storm Hits Valparaíso is an epic historical adventure starring two brothers torn apart by love; a slave running for his life; a disgraced British sailor seeking redemption; and José de San Martín, an Argentine general who deserts the Spanish Army to lead a bloody revolt against his former masters.
Free on Kindle 7/17-21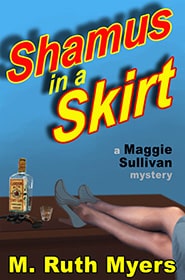 Shamus in a Skirt by M. Ruth Myers
When a man offers 1940s private investigator Maggie Sullivan twice her usual fee to look into a "possible" jewelry theft from his hotel safe, she's skeptical — until a maid's body tumbles out of a trash can and a jeweler known for high quality fakes is murdered.
Does a hotel guest who vanished without a trace hold a piece of the puzzle? Or does it have to do with the Polish count and his family fleeing the start of WW2 in Europe? Could the cops be right that it's all a trick devised by her client?
More at ease in Dayton, Ohio's, streets and alleyways than in the posh Hotel Canterbury, and chafing under the need to hide her true occupation, Maggie threads her way through an unfamiliar array of suspects: Celluloid luminaries in town for a hush-hush project; an international Lothario whose shady local past she unearths; the count's embittered valet.
99 cents on Kindle, iBook, Nook, Kobo  7/12-16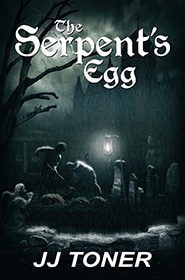 Serpent's Egg by JJ Toner
Max and Anna are in love and want to get married. But this is Germany, 1938. Their union is against Nazi laws, as Anna is part-Jewish. A Gestapo officer agrees to authorize the marriage, but only if Max infiltrates and betrays a Marxist resistance cell, the Red Orchestra. This is not an assignment that Max can refuse. If he succeeds, Anna will get the wedding she longs for, but many brave resistance fighters will die…
99 cents on Kindle for a limited time.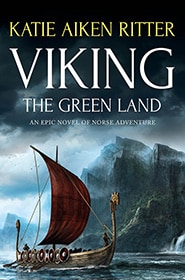 VIKING: The Green Land by Katie Aiken Ritter
ICELAND, 982 A.D. A SHIP OF OUTLAWS. A WOMAN, ALONE. Dangerous seas…and even more dangerous secrets on board. Iceland's powerful Althing Council has convicted seafarer Tiller Thorvaldsson of murder – to force him on a ship for a perilous quest in search of a legendary land, said to lie in uncharted western seas. Who is the mysterious, beautiful woman aboard, called Fishgirl? A skilled liar, she tells Tiller that her life is in danger and that she is in desperate need of an ally…but do they dare trust one other?
Based on the Saga of Erik the Red and evocative of Jean Auel's CLAN OF THE CAVE BEAR, THE GREEN LAND is a sweeping epic novel of murder, passion, love, and courage in a battle for survival between the dark forces of intrigue and the redemptive power of the human spirit.
Fast-paced action with complex, strong-willed characters and meticulously researched, authentic storytelling – with plot twists to keep you guessing until the last page – you'll love the experience of reading VIKING: THE GREEN LAND!
Will finding land offer hope…or bring them even greater danger? ADVENTURE AWAITS! Buy VIKING THE GREEN LAND now to set your sails for excitement.
Discounted to $4.99 on Kindle for a limited time.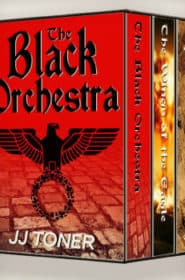 The Black Orchestra Boxed Set: Books 1-3 by JJ Toner
Three WW2 spy thrillers.
THE BLACK ORCHESTRA follows the progress of Kurt Müller from naïve dutiful Abwehr signalman to committed opponent of the Nazis. Disgusted by the casual brutality of the SS, he is faced by a choice between his duty and his conscience, and when he stumbles across the Black Orchestra, a secret underground German resistance movement, he must choose again, between country and family, between love and death.
THE WINGS OF THE EAGLE tells the story of Kurt's first mission for British Intelligence. Accompanied by a young man named Pilgrim, he is parachuted behind enemy lines in search of a missing agent, Erika Cleasby. Kurt and Pilgrim rescue Erika and all three become involved in a deadly race to prevent the Nazis from developing the first atomic bomb.
In A POSTCARD FROM HAMBURG, Kurt is working for British Intelligence in London when his lover, Gudrun, is abducted by the SS. He must find his way to northern Germany where she is being held. Erika, meanwhile, pursues her own secret mission in Occupied France. The two stories merge in a dramatic climax that reveals the dirty tactics of Total War.
Discounted to $6.99 on Kindle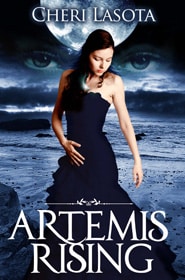 Artemis Rising by Cheri Lasota
Torn between her father's Catholicism and her mother's Pagan beliefs, Eva finally chooses Paganism. She accepts the name of Arethusa but learns too late that her life will mir­ror the Greek nymph's tragic fate. When they sail to the Azores Islands, her mother tells her that the ful­fill­ment of her des­tiny rests with Diogo, the shipowner's son. But Eva sees a vision of another…
When the ship founders off the Azores, Tristan, a young Azorean, saves her. Destined to be with Diogo and aching for Tristan's for­bid­den love, Eva must some­how choose between them, or fate will soon choose for her.
Free for a limited time on Instafreebie
The Thinara King by Rebecca Lochlann
Ash, earthquakes, and tsunamis devastate Crete. The will of the survivors fades as the skies remain dark and frost blackens the crops. Aridela must find a way to revive the spirit of her people along with rebuilding her country's defenses.
More threats loom on the horizon–Greek kingdoms who see a weakened Crete as easy prey. And now, Chrysaleon, he who carries the ancient title of The Thinara King, feels the shadow of Death over his shoulder. Will he thwart his fate? No other man ever has.
99 cents in these ebookstores for a limited time.
⊕⊕⊕⊕
New Publications: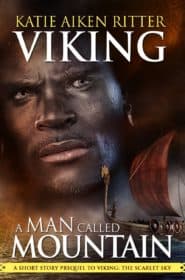 Viking: A Man Called Mountain by Katie Aiken Ritter
980 A.D. The massive black man called Tor – Gaelic for 'mountain' – has traveled Viking trading routes north along Saxon lands to remote Iceland. Fiercely determined to protect the two children who travel with him, they are his only link to the woman he loved, stolen by slavers — and Tor wants nothing more from life than to keep them safe with him.
But a deceptive merchant, a lonely young widow with a terrible secret, and a mysterious Druid truth-seer draw Tor farther and farther towards an unbearable truth: keeping his children safe might mean never seeing them again.
When all seems lost, the brutal headman Naldrum forces yet another choice. Tor must decide to become a reluctant hero who will stand against vicious power with only courage and the power of truth. Will Tor find a way past losing everything that matters to him…and where will that path lead others?
Available on Kindle
The Worthy Soldier by Sarah Woodbury
May 1147. Gareth and Gwen have traveled to Deheubarth in the retinue of Prince Hywel. The Prince of Gwynedd has temporarily allied himself with King Cadell and his Norman relations in order to finally evict the hated Flemings from south Wales. But while the battle goes well, the celebratory feast afterwards does not, leaving Gareth and Gwen among the few left standing. And it is to them, as always, that the investigation falls and on whom peace in Wales may well depend.
The Worthy Soldier is the ninth Gareth & Gwen Medieval Mystery.
Available on Kindle, iBooks, Nook, Kobo
Her Ex-GI P. I. by Peg Herring
Carrie Walsh is almost unaware of the Women's Liberation Movement, a 1960s girl too shy to speak her mind and too uptight to burn her bra.
When she witnesses a murder in an alley in Flint, Michigan, Carrie's life takes a new direction. Joining the handsome, brooding Vietnam veteran Jack Porter to solve the crime, Carrie begins to feel more like a career woman and less like the incompetent, unattractive person her mother believes her to be. Still, in her own mind she's no female sleuth. She sees herself more as Perry Mason's Della Street, ready to run errands for the detective, whose service in Vietnam left him crippled.
The suspense builds as Jack and Carrie look into the death she witnessed, the murder of Jack's friend and former partner. They do well together, but she discovers that Jack brought secrets home–secrets that bring Carrie disappointment in love, uncertainty at work, and the very real possibility that she's targeted for murder.
Available on Kindle
In the fifth century BCE, Egypt is the greatest civilization known to mankind. But with a foolish king on its throne, the Nile Valley is ripe for conquering.?
Amid this climate of danger and strife, in the alleys and brothels of Memphis, an extraordinary young woman comes of age. To spare her siblings from starvation, Doricha is sold into prostitution. But she has gifts beyond mere beauty. Through wit and determination, she works her way into the realm of the hetaerae–courtesans of exceptional refinement.
?As a hetaera, Doricha has access to the schemes and negotiations that shape the world. But the rich and powerful also have access to her, and Doricha soon finds herself in the Pharaoh's harem, caught up in his reckless schemes. When the Pharaoh sends her off to his fiercest enemy, thinly cloaked by a dangerous ruse, Doricha must become a double agent if she hopes to survive. Caught between the Pharaoh and the Persian king Cambyses, it is Doricha–once a slave, now a woman of great but secret power–who will determine Egypt's fate.
Persian Rose second book in the White Lotus Trilogy.
Available on Kindle, Nook, Kobo GooglePlay
⊕⊕⊕⊕
Permanently Free or Discounted:
Libi Astaire, The Tempest in the Tea Room (A Jewish Regency Mystery Book 1), is Free on Kindle, iTunes, Nook, Kobo
Anna Castle, Murder by Misrule (The Francis Bacon Mystery Series Book 1) is Free on Kindle, Apple, Kobo, Nook
Rebecca Lochlann, The Year-God's Daughter (The Child of the Erinyes, Book 1)  is Free in most ebookstores
Louisa Locke, Maids of Misfortune: Victorian San Francisco Mystery (Book 1)is Free on Kindle, Nook, Apple, KoboGooglePlay
Ruth Myers, No Game for a Dame (Maggie Sullivan Mysteries 1) is Freeon Kindle, Nook, Apple, Kobo
JJ Toner, Zugswang (a Saxon short story) is Free on Kindle, Apple, Kobo, Nook, Smashwords
Sarah Woodbury, The Good Knight (Gwen and Gareth Medieval Mystery Book 1) is Free in Kindle, iTunes, Nook, Kobo
Sarah Woodbury, The Last Pendragon (The Last Pendragon Saga Book 1) is Free on Kindle, Apple, Kobo, Nook, GooglePlay
*****
Peg Herring, MacBeth's Niece, 99 cents on Kindle
Beverle Graves Myers, Interrupted Aria-A Tito Amato Mystery, 99 cents in selected ebookstores
Ann Parker, Silver Lies (Silver Rush Mysteries Book 1) is 99 cents in selected ebookstores
Pricilla Royal, Wine of Violence (A Medieval Mystery #1), 99 cents in selected ebookstores.
Sarah Woodbury, Cold My Heart (The Lion in Wales Book 1), 99 cents in selected ebookstores.
SaveSave
SaveSaveSaveSave
SaveSave