Once a week the Historical Fiction Authors Cooperative posts the books in our catalog that are newly free, discounted, or published. If you want to make sure you get notified in a timely matter, please subscribe to our blog.
Short Term Freebies and Discounts: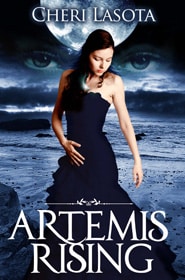 Artemis Rising by Cheri Lasota
Torn between her father's Catholicism and her mother's Pagan beliefs, Eva finally chooses Paganism. She accepts the name of Arethusa but learns too late that her life will mir­ror the Greek nymph's tragic fate. When they sail to the Azores Islands, her mother tells her that the ful­fill­ment of her des­tiny rests with Diogo, the shipowner's son. But Eva sees a vision of another…
When the ship founders off the Azores, Tristan, a young Azorean, saves her. Destined to be with Diogo and aching for Tristan's for­bid­den love, Eva must some­how choose between them, or fate will soon choose for her.
Free for a limited time on Instafreebie
The Thinara King by Rebecca Lochlann
Ash, earthquakes, and tsunamis devastate Crete. The will of the survivors fades as the skies remain dark and frost blackens the crops. Aridela must find a way to revive the spirit of her people along with rebuilding her country's defenses.
More threats loom on the horizon–Greek kingdoms who see a weakened Crete as easy prey. And now, Chrysaleon, he who carries the ancient title of The Thinara King, feels the shadow of Death over his shoulder. Will he thwart his fate? No other man ever has.
99 cents in these ebookstores for a limited time.
⊕⊕⊕⊕
New Publications: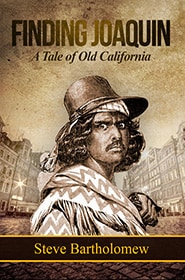 Finding Joaquin; A Tale of Old California by Steve Bartholomew
In 1852, Joaquin Murietta is Gold Rush California's most notorious bandit. The Rangers are hunting for him, with promise of a sizable reward. Ira Beard, a bounty hunter from New York, also decides to go after Joaquin. He has only two men in his posse, but encounters a Spanish lady who will save his life three times. Who will get to Joaquin first, and is that really Joaquin's head in a bottle?
Available on Kindle 
Legend of the Pendragon by Sarah Woodbury
Cade and his companions have reached the final reckoning. He must either rise to the promise of his birth and become the legend that prophecy foretold—or face the ultimate destruction of his country and his people. 
Legend of the Pendragon is the eighth and final installment in The Last Pendragon Saga.
Available on Kindle, Nook, iTunes, Kobo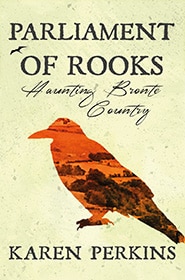 Parliament of Rooks: Haunting Bronte County by Karen Perkins
No matter how hard life is, humanity has the power to make it better – or worse.
Parliament of Rooks, the new historical paranormal novel in the award-winning Yorkshire Ghosts series, contrasts the beautiful, inspiring village of Haworth today with the slum – or rookery – it was during the industrial revolution: rife with disease, heartache, poverty, and employing child slavery in the mills.
In 2017, life expectancy in the UK is 81.
In 1848 Haworth, it was 22.
Haunting Brontë Country
Nine-year-old Harry Sutcliff hates working at Rooks Mill and is forever in trouble for running away to the wide empty spaces of the moors – empty but for the song of the skylark, the antics of the rabbits, and the explorations of Emily Brontë. Bound together by their love of the moors, Emily and Harry develop a lasting friendship, but not everyone is happy about it – especially Martha, Harry's wife.
As Martha's jealous rages grow in ferocity, Harry does not realise the danger he is in; a danger that also threatens Verity and her new beau, William, 150 years later. Only time will tell if Verity and William have the strength to fight off the ghosts determined to shape their lives, or whether they will succumb to an age-old betrayal.
Available on Kindle Nook Kobo iTunes
⊕⊕⊕⊕
Permanently Free or Discounted:
Libi Astaire, The Tempest in the Tea Room (A Jewish Regency Mystery Book 1), is Free on Kindle, iTunes, Nook, Kobo
Anna Castle, Murder by Misrule (The Francis Bacon Mystery Series Book 1) is Free on Kindle, Apple, Kobo, Nook
Rebecca Lochlann, The Year-God's Daughter (The Child of the Erinyes, Book 1)  is Free in most ebookstores
Louisa Locke, Maids of Misfortune: Victorian San Francisco Mystery (Book 1)is Free on Kindle, Nook, Apple, KoboGooglePlay
Ruth Myers, No Game for a Dame (Maggie Sullivan Mysteries 1) is Freeon Kindle, Nook, Apple, Kobo
JJ Toner, Zugswang (a Saxon short story) is Free on Kindle, Apple, Kobo, Nook, Smashwords
Sarah Woodbury, The Good Knight (Gwen and Gareth Medieval Mystery Book 1) is Free in Kindle, iTunes, Nook, Kobo
Sarah Woodbury, The Last Pendragon (The Last Pendragon Saga Book 1) is Free on Kindle, Apple, Kobo, Nook, GooglePlay
*****
Peg Herring, MacBeth's Niece, 99 cents on Kindle
Beverle Graves Myers, Interrupted Aria-A Tito Amato Mystery, 99 cents in selected ebookstores
Ann Parker, Silver Lies (Silver Rush Mysteries Book 1) is 99 cents in selected ebookstores
Pricilla Royal, Wine of Violence (A Medieval Mystery #1), 99 cents in selected ebookstores.
Sarah Woodbury, Cold My Heart (The Lion in Wales Book 1), 99 cents in selected ebookstores.