Once a week the Historical Fiction Authors Cooperative posts the books in our catalog that are newly free, discounted, or published. If you want to make sure you get notified in a timely matter, please subscribe to our blog. 
Short Term Freebies and Discounts: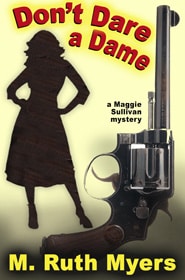 Don't Dare a Dame by M. Ruth Myers
Depression-era private investigator Maggie Sullivan risks losing her P.I. license — and her life — when two spinsters hire her to learn the fate of their father, who vanished twenty-six years earlier. She's barely started when her main suspect commits suicide and Maggie is summoned before the powerful chief of police. A stroke of his pen will revoke her license, and he warns her he's getting complaints about her from City Hall.
With her livelihood on the line, fortified by a nip of gin and her .38, the intrepid detective follows a trail all but obliterated by time and the catastrophic Dayton flood of 1913 in which the vanished man went missing. It leads her to a local politician with bigger ambitions — and possibly secrets to hide. It takes her into dime stores, cheap hotels, and a violent ambush by men wearing brass knuckles.
As a cop wages a wily campaign to win her affections, and a rag-tag newsboy pushes to become her assistant, crimes of the past explode in the present. Maggie fights to survive foes who must destroy her to destroy each other.
Fans of strong women sleuths and historical atmosphere have dubbed this tough little private investigator "Sam Spade in a skirt."
99 Cents on Kindle, iTunes, Nook, Kobo 3/10-12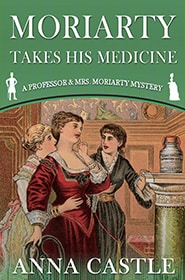 Moriarty Takes His Medicine A Professor & Mrs. Moriarty Mystery (Book 2) by Anna Castle
Professor & Mrs. Moriarty tackle a case too ticklish for Sherlock Holmes to handle on his own…
James and Angelina Moriarty are settling into their new marriage and their fashionable new home — or trying to. But James has too little to occupy his mind and Angelina has too many secrets pressing on her heart. They fear they'll never learn to live together. Then Sherlock Holmes comes to call with a challenging case. He suspects a prominent Harley Street specialist of committing murders for hire, sending patients home from his private hospital with deadly doses or fatal conditions. Holmes intends to investigate, but the doctor's clientele is exclusively female. He needs Angelina's help.
While Moriarty, Holmes, and Watson explore the alarming number of ways a doctor can murder his patients with impunity, Angelina enters into treatment with their primary suspect, posing as a nervous woman who fears her husband wants to be rid of her. Then a hasty conclusion and an ill-considered word drive James and Angelina apart, sending her deep into danger. Now they must find the courage to trust each other as they race the clock to win justice for the murdered women before they become victims themselves.
Join the Moriartys for the second adventure in the series hailed as "A must for Sherlock enthusiasts" by Midwest Book Reviews.
99 cents on Kindle 3/10-12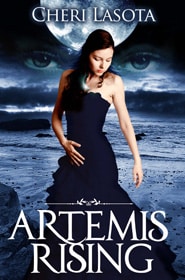 Artemis Rising by Cheri Lasota
Torn between her father's Catholicism and her mother's Pagan beliefs, Eva finally chooses Paganism. She accepts the name of Arethusa but learns too late that her life will mir­ror the Greek nymph's tragic fate. When they sail to the Azores Islands, her mother tells her that the ful­fill­ment of her des­tiny rests with Diogo, the shipowner's son. But Eva sees a vision of another…
When the ship founders off the Azores, Tristan, a young Azorean, saves her. Destined to be with Diogo and aching for Tristan's for­bid­den love, Eva must some­how choose between them, or fate will soon choose for her.
Free for a limited time on Instafreebie
The Thinara King by Rebecca Lochlann
Ash, earthquakes, and tsunamis devastate Crete. The will of the survivors fades as the skies remain dark and frost blackens the crops. Aridela must find a way to revive the spirit of her people along with rebuilding her country's defenses.
More threats loom on the horizon–Greek kingdoms who see a weakened Crete as easy prey. And now, Chrysaleon, he who carries the ancient title of The Thinara King, feels the shadow of Death over his shoulder. Will he thwart his fate? No other man ever has.
99 cents in these ebookstores for a limited time.
⊕⊕⊕⊕
New Publications:
Legend of the Pendragon by Sarah Woodbury
Cade and his companions have reached the final reckoning. He must either rise to the promise of his birth and become the legend that prophecy foretold—or face the ultimate destruction of his country and his people. 
Legend of the Pendragon is the eighth and final installment in The Last Pendragon Saga.
Available on Kindle, Nook, iTunes, Kobo on 3/7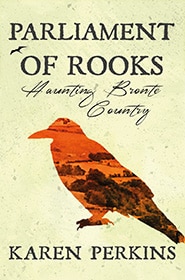 Parliament of Rooks: Haunting Bronte County by Karen Perkins
No matter how hard life is, humanity has the power to make it better – or worse.
Parliament of Rooks, the new historical paranormal novel in the award-winning Yorkshire Ghosts series, contrasts the beautiful, inspiring village of Haworth today with the slum – or rookery – it was during the industrial revolution: rife with disease, heartache, poverty, and employing child slavery in the mills.
In 2017, life expectancy in the UK is 81.
In 1848 Haworth, it was 22.
Haunting Brontë Country
Nine-year-old Harry Sutcliff hates working at Rooks Mill and is forever in trouble for running away to the wide empty spaces of the moors – empty but for the song of the skylark, the antics of the rabbits, and the explorations of Emily Brontë. Bound together by their love of the moors, Emily and Harry develop a lasting friendship, but not everyone is happy about it – especially Martha, Harry's wife.
As Martha's jealous rages grow in ferocity, Harry does not realise the danger he is in; a danger that also threatens Verity and her new beau, William, 150 years later. Only time will tell if Verity and William have the strength to fight off the ghosts determined to shape their lives, or whether they will succumb to an age-old betrayal.
Available on Kindle 2/28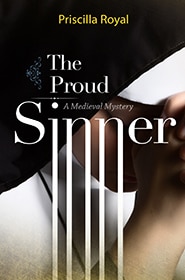 The Proud Sinner: Medieval Mystery Book 13 by Priscilla Royal
In the winter of 1282, snow and ice ravage East Anglia while Prioress Eleanor awaits the decision of her young maid, Gracia, found starving on the streets some years ago, whether to take vows or to leave Tyndal Priory to make her way in the world.
But a far greater problem arrives at the priory gate. Seven abbots are riding to meet a papal legate in Norfolk. This is not a pilgrimage-each abbot hopes to make a case for being raised to a bishopric at the next vacancy. One abbot grows so ill the party has detoured to Tyndal. And despite the limited care Sister Anne can offer, Abbot Ilbert dies a horrible death, cause unknown. As his fellows prepare to resume their journey the next day, Abbot Tristram doubles over in great distress. By now the heavy snows have choked all the roads and the priory and village are marooned. Tristram dies. And then another abbot sickens while Sister Anne struggles to determine what killed these men-which question soon becomes not just what, but who did it?
One suspect is the gluttonous Odo, the ambitious Abbot of Caldwell and younger brother of Crowner Ralf. Since everyone despises Odo, is he simply a red herring? Prioress Eleanor is determined to stop the carnage that has shattered the tranquility in her priory while the Crowner must enforce the king's justice. Brother Thomas and Sister Anne form part of the investigation which plumbs the priory's kitchens and management as well as its medical facilities.
The Proud Sinner, 13th in the Medieval Mysteries by Priscilla Royal, illustrates medieval matters medical and culinary as well as vocations for the religious life in a framework that crosses Chaucer's Canterbury Tales with Agatha Christie's And Then There Were None.
Now Available on Kindle, Nook, Kobo, iTunes
⊕⊕⊕⊕
Permanently Free or Discounted:
Libi Astaire, The Tempest in the Tea Room (A Jewish Regency Mystery Book 1), is Free on Kindle, iTunes, Nook, Kobo
Anna Castle, Murder by Misrule (The Francis Bacon Mystery Series Book 1) is Free on Kindle, Apple, Kobo, Nook
Rebecca Lochlann, The Year-God's Daughter (The Child of the Erinyes, Book 1)  is Free in most ebookstores
Louisa Locke, Maids of Misfortune: Victorian San Francisco Mystery (Book 1)is Free on Kindle, Nook, Apple, KoboGooglePlay
Ruth Myers, No Game for a Dame (Maggie Sullivan Mysteries 1) is Freeon Kindle, Nook, Apple, Kobo
JJ Toner, Zugswang (a Saxon short story) is Free on Kindle, Apple, Kobo, Nook, Smashwords
Sarah Woodbury, The Good Knight (Gwen and Gareth Medieval Mystery Book 1) is Free in Kindle, iTunes, Nook, Kobo
Sarah Woodbury, The Last Pendragon (The Last Pendragon Saga Book 1) is Free on Kindle, Apple, Kobo, Nook, GooglePlay
*****
Peg Herring, MacBeth's Niece, 99 cents on Kindle
Beverle Graves Myers, Interrupted Aria-A Tito Amato Mystery, 99 cents in selected ebookstores
Ann Parker, Silver Lies (Silver Rush Mysteries Book 1) is 99 cents in selected ebookstores
Pricilla Royal, Wine of Violence (A Medieval Mystery #1), 99 cents in selected ebookstores.
Sarah Woodbury, Cold My Heart (The Lion in Wales Book 1), 99 cents in selected ebookstores.