Once a week the Historical Fiction Authors Cooperative posts the books in our catalog that are newly free, discounted, or published. If you want to make sure you get notified in a timely matter, please subscribe to our blog.
Short Term Freebies and Discounts: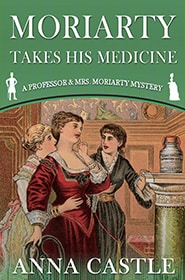 Moriarty Takes His Medicine by Anna Castle
Professor & Mrs. Moriarty tackle a case too ticklish for Sherlock Holmes to handle on his own…
James and Angelina Moriarty are settling into their new marriage and their fashionable new home — or trying to. But James has too little to occupy his mind and Angelina has too many secrets pressing on her heart. They fear they'll never learn to live together. Then Sherlock Holmes comes to call with a challenging case. He suspects a prominent Harley Street specialist of committing murders for hire, sending patients home from his private hospital with deadly doses or fatal conditions. Holmes intends to investigate, but the doctor's clientele is exclusively female. He needs Angelina's help.
While Moriarty, Holmes, and Watson explore the alarming number of ways a doctor can murder his patients with impunity, Angelina enters into treatment with their primary suspect, posing as a nervous woman who fears her husband wants to be rid of her. Then a hasty conclusion and an ill-considered word drive James and Angelina apart, sending her deep into danger. Now they must find the courage to trust each other as they race the clock to win justice for the murdered women before they become victims themselves.
Join the Moriartys for the second adventure in the series hailed as "A must for Sherlock enthusiasts" by Midwest Book Reviews.
99 cents on Kindle 5/15-22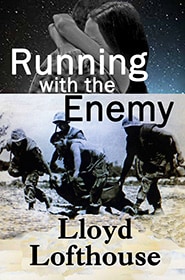 Running with the Enemy by Lloyd Lofthouse
Blamed for a crime he did not commit while serving in Vietnam, his country considers him a traitor. In "Running with the Enemy", Ethan Card is a loyal US Marine desperate to prove his innocence or he will never go home again, and the woman he loves and wants to save from two sociopaths was trained to kill Americans.
99 cents on Kindle, Nook, iTunes, Kobo until 6/17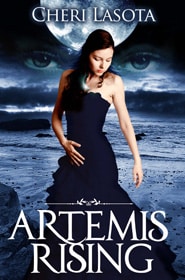 Artemis Rising by Cheri Lasota
Torn between her father's Catholicism and her mother's Pagan beliefs, Eva finally chooses Paganism. She accepts the name of Arethusa but learns too late that her life will mir­ror the Greek nymph's tragic fate. When they sail to the Azores Islands, her mother tells her that the ful­fill­ment of her des­tiny rests with Diogo, the shipowner's son. But Eva sees a vision of another…
When the ship founders off the Azores, Tristan, a young Azorean, saves her. Destined to be with Diogo and aching for Tristan's for­bid­den love, Eva must some­how choose between them, or fate will soon choose for her.
Free for a limited time on Instafreebie
The Thinara King by Rebecca Lochlann
Ash, earthquakes, and tsunamis devastate Crete. The will of the survivors fades as the skies remain dark and frost blackens the crops. Aridela must find a way to revive the spirit of her people along with rebuilding her country's defenses.
More threats loom on the horizon–Greek kingdoms who see a weakened Crete as easy prey. And now, Chrysaleon, he who carries the ancient title of The Thinara King, feels the shadow of Death over his shoulder. Will he thwart his fate? No other man ever has.
99 cents in these ebookstores for a limited time.
⊕⊕⊕⊕
New Publications:
Her Ex-GI P. I. by Peg Herring
Carrie Walsh is almost unaware of the Women's Liberation Movement, a 1960s girl too shy to speak her mind and too uptight to burn her bra.
When she witnesses a murder in an alley in Flint, Michigan, Carrie's life takes a new direction. Joining the handsome, brooding Vietnam veteran Jack Porter to solve the crime, Carrie begins to feel more like a career woman and less like the incompetent, unattractive person her mother believes her to be. Still, in her own mind she's no female sleuth. She sees herself more as Perry Mason's Della Street, ready to run errands for the detective, whose service in Vietnam left him crippled.
The suspense builds as Jack and Carrie look into the death she witnessed, the murder of Jack's friend and former partner. They do well together, but she discovers that Jack brought secrets home–secrets that bring Carrie disappointment in love, uncertainty at work, and the very real possibility that she's targeted for murder.
Available on Kindle
In the fifth century BCE, Egypt is the greatest civilization known to mankind. But with a foolish king on its throne, the Nile Valley is ripe for conquering.?
Amid this climate of danger and strife, in the alleys and brothels of Memphis, an extraordinary young woman comes of age. To spare her siblings from starvation, Doricha is sold into prostitution. But she has gifts beyond mere beauty. Through wit and determination, she works her way into the realm of the hetaerae–courtesans of exceptional refinement.
?As a hetaera, Doricha has access to the schemes and negotiations that shape the world. But the rich and powerful also have access to her, and Doricha soon finds herself in the Pharaoh's harem, caught up in his reckless schemes. When the Pharaoh sends her off to his fiercest enemy, thinly cloaked by a dangerous ruse, Doricha must become a double agent if she hopes to survive. Caught between the Pharaoh and the Persian king Cambyses, it is Doricha–once a slave, now a woman of great but secret power–who will determine Egypt's fate.
Persian Rose second book in the White Lotus Trilogy.
Available on Kindle, Nook, Kobo GooglePlay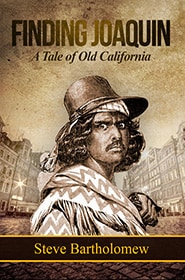 Finding Joaquin; A Tale of Old California by Steve Bartholomew
In 1852, Joaquin Murietta is Gold Rush California's most notorious bandit. The Rangers are hunting for him, with promise of a sizable reward. Ira Beard, a bounty hunter from New York, also decides to go after
Joaquin. He has only two men in his posse, but encounters a Spanish lady who will save his life three times. Who will get to Joaquin first, and is that really Joaquin's head in a bottle?
Available on Kindle 
Legend of the Pendragon by Sarah Woodbury
Cade and his companions have reached the final reckoning. He must either rise to the promise of his birth and become the legend that prophecy foretold—or face the ultimate destruction of his country and his people. 
Legend of the Pendragon is the eighth and final installment in The Last Pendragon Saga.
Available on Kindle, Nook, iTunes, Kobo
⊕⊕⊕⊕
Permanently Free or Discounted:
Libi Astaire, The Tempest in the Tea Room (A Jewish Regency Mystery Book 1), is Free on Kindle, iTunes, Nook, Kobo
Anna Castle, Murder by Misrule (The Francis Bacon Mystery Series Book 1) is Free on Kindle, Apple, Kobo, Nook
Rebecca Lochlann, The Year-God's Daughter (The Child of the Erinyes, Book 1)  is Free in most ebookstores
Louisa Locke, Maids of Misfortune: Victorian San Francisco Mystery (Book 1)is Free on Kindle, Nook, Apple, KoboGooglePlay
Ruth Myers, No Game for a Dame (Maggie Sullivan Mysteries 1) is Freeon Kindle, Nook, Apple, Kobo
JJ Toner, Zugswang (a Saxon short story) is Free on Kindle, Apple, Kobo, Nook, Smashwords
Sarah Woodbury, The Good Knight (Gwen and Gareth Medieval Mystery Book 1) is Free in Kindle, iTunes, Nook, Kobo
Sarah Woodbury, The Last Pendragon (The Last Pendragon Saga Book 1) is Free on Kindle, Apple, Kobo, Nook, GooglePlay
*****
Peg Herring, MacBeth's Niece, 99 cents on Kindle
Beverle Graves Myers, Interrupted Aria-A Tito Amato Mystery, 99 cents in selected ebookstores
Ann Parker, Silver Lies (Silver Rush Mysteries Book 1) is 99 cents in selected ebookstores
Pricilla Royal, Wine of Violence (A Medieval Mystery #1), 99 cents in selected ebookstores.
Sarah Woodbury, Cold My Heart (The Lion in Wales Book 1), 99 cents in selected ebookstores.