Once a week the Historical Fiction Authors Cooperative posts the books in our catalog that are newly free, discounted, or published. If you want to make sure you get notified in a timely matter, please subscribe to our blog.
Short Term Freebies and Discounts: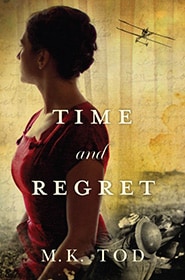 Time and Regret by M. K. Tod
When Grace Hansen finds a box belonging to her beloved grandfather, she has no idea it holds the key to his past—and to long-buried family secrets. In the box are his World War I diaries and a cryptic note addressed to her. Determined to solve her grandfather's puzzle, Grace follows his diary entries across towns and battle sites in northern France, where she becomes increasingly drawn to a charming French man—and suddenly aware that someone is following her…
Through her grandfather's vivid writing and Grace's own travels, a picture emerges of a man very unlike the one who raised her: one who watched countless friends and loved ones die horrifically in battle; one who lived a life of regret. But her grandfather wasn't the only one harboring secrets, and the more Grace learns about her family, the less she thinks she can trust them.
Discounted on US Kindle and UK Kindle through November 31, 2017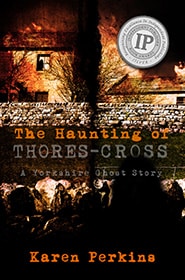 The Haunting of Thores-Cross by Karen Perkins
A haunting novel set in the North Yorkshire Moors about isolation, superstition and persecution. Thores-Crossfollows the stories of Emma, a present day writer, and Jennet, an eighteenth century witch.
Emma Moorcroft is still grieving after a late miscarriage and moves to her dream house at Thruscross Reservoir with her husband, Dave. Both Emma and Dave hope that moving into their new home signifies a fresh start, but life is not that simple. Emma has nightmares about the reservoir and the drowned village that lies beneath the water, and is further disturbed by the sound of church bells – from a church that no longer exists.
Jennet is fifteen and lives in the isolated community of Thores-Cross, where life revolves about the sheep on which they depend. Following the sudden loss of both her parents, she is seduced by the local wool merchant, Richard Ramsgill. She becomes pregnant and is shunned not only by Ramsgill, but by the entire village. Lonely and embittered, Jennet's problems escalate, leading to tragic consequences which continue to have an effect through the centuries.
Emma becomes fixated on Jennet, neglecting herself, her beloved dogs and her husband to the point where her marriage may not survive. As Jennet and Emma's lives become further entwined, Emma's obsession deepens and she realises that the curse Jennet inflicted on the Ramsgill family over two hundred years ago is still claiming lives. Emma is the only one who can stop Jennet killing again, but will her efforts be enough?
$1.99 on Kindle through November 31, 2017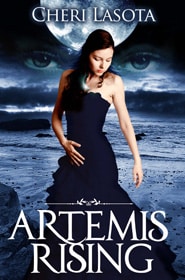 Artemis Rising by Cheri Lasota
Torn between her father's Catholicism and her mother's Pagan beliefs, Eva finally chooses Paganism. She accepts the name of Arethusa but learns too late that her life will mir­ror the Greek nymph's tragic fate. When they sail to the Azores Islands, her mother tells her that the ful­fill­ment of her des­tiny rests with Diogo, the shipowner's son. But Eva sees a vision of another…
When the ship founders off the Azores, Tristan, a young Azorean, saves her. Destined to be with Diogo and aching for Tristan's for­bid­den love, Eva must some­how choose between them, or fate will soon choose for her.
Free for a limited time on Instafreebie
⊕⊕⊕⊕
New Publications: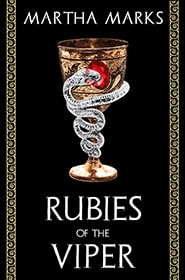 Rubies of the Viper (new edition) by Martha Marks
AD 53 — Strong-willed, impetuous, and naive, Theodosia Varro inherits the family estate after her brother is murdered on the streets of Rome. With no preparation, she goes from poverty and isolation to great wealth and a prestigious position in society.
Only by identifying her brother's killer can she feel safe, yet her efforts take her in quite the opposite direction. After her own actions and the scheming of others lead to catastrophe, Theodosia struggles to survive and recover what matters most in her life.
Now available on Kindle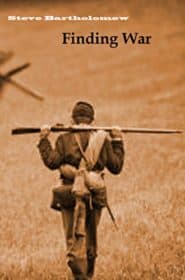 Finding War by Steve Bartholomew
Ira Beard came west to escape war., but the Civil War came to California.
Now War has found him. He'd hunted for Joaquin Murietta, the bandit. He found Joaquin's head in a jar. Now he's supposed to track down Confederate rebels stealing California gold. He's become desperate because his wife Octavia found the rebels first, and now she's a hostage.
Read the tale for yourself, and wonder.
Now Available on Kindle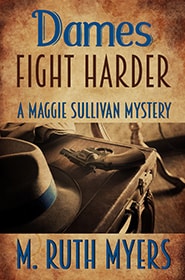 Dames Fight Harder by M. Ruth Myers
Murderer or independent woman?
Murder at a construction site draws Ohio private investigator Maggie Sullivan into a case that makes cops mistrust her and friends doubt her. The suspect, Rachel Minsky, is Maggie's closest friend – and all signs point to Rachel's guilt.
Rachel ignores the rules society imposes on women. That independence, in 1942, as well as her success in business, has made her enemies. Yet the dead man also had an unsavory secret or two, starting with his missing mistress. Who was the murderer's real target? And what is Rachel hiding from the only person who can save her?
The city Maggie scours for clues to the real killer has been altered by America's recent entry into World War II. Shortages of men and material have created new motives for murder. Unsupervised children roam the streets at night while their mothers work in defense plants. Strangers outnumber familiar faces at Maggie's favorite pub.
As the case and Maggie's relationship with policeman Mick Connelly heat up, Maggie finds herself caught in currents that threaten to drown her.
Now Available on Kindle, Nook, Kobo, iBooks
Mist-chi-mas: A Novel of Captivity by J. L. Oakley
In Mist-chi-mas, everyone is bound to something.Jeannie Naughton never intended to run away from her troubles, but in 1860, a woman's reputation is everything. A scandal not of her own making forces her to flee England for an island in the Pacific Northwest, a territory jointly occupied by British and American military forces. At English Camp, Jeannie meets American Jonas Breed. Breed was once a captive and slave — a mistchimas — of the Haida, and still retains close ties to the Coast Salish Indians.
But the inhabitants of the island mistrust Breed for his friendship with the tribes. When one of Breed's friends is murdered, he is quickly accused of a gruesome retaliation. Jeannie knows he's innocent, and plans to go away with him, legitimizing their passionate affair with a marriage. But when she receives word that Breed has been killed in a fight, Jeannie's world falls apart. Although she carries Jonas Breed's child, she feels she has no choice but to accept a proposal from another man.
Twenty years later, Jeannie finds reason to believe that Breed may still be alive. She must embark on a journey to uncover the truth, unaware that she is stirring up an old and dangerous struggle for power and revenge…
Now available on Kindle
Journey to Rhyolite (new edition)  by Steve Bartholomew
Rhyolite is the greatest boomtown in Nevada, soon to become State Capitol and make everyone rich. Nathaniel Strange journeys here to seek out Annabelle, love of his life. He finds a little girl lost in the desert. She makes him remember Snallygaster, who has stolen everything from him including Annabelle and his own freedom. Nathaniel has come here for another reason: to confront the man he murdered back in Baltimore. He must discover if he is to lose everything again, including his revenge.
Available on Kindle
⊕⊕⊕⊕
Permanently Free or Discounted:
Libi Astaire, The Tempest in the Tea Room (A Jewish Regency Mystery Book 1), is Free on Kindle, iTunes, Nook, Kobo
Anna Castle, Murder by Misrule (The Francis Bacon Mystery Series Book 1) is Free on Kindle, Apple, Kobo, Nook
M. Louisa Locke, Maids of Misfortune: Victorian San Francisco Mystery (Book 1)is Free on Kindle, Nook, Apple, KoboGooglePlay
Ruth Myers, No Game for a Dame (Maggie Sullivan Mysteries 1) is Freeon Kindle, Nook, Apple, Kobo
JJ Toner, Zugswang (a Saxon short story) is Free on Kindle, Apple, Kobo, Nook, Smashwords
Sarah Woodbury, The Good Knight (Gwen and Gareth Medieval Mystery Book 1) is Free in Kindle, iTunes, Nook, Kobo
Sarah Woodbury, The Last Pendragon (The Last Pendragon Saga Book 1) is Free on Kindle, Apple, Kobo, Nook, GooglePlay
*****
Peg Herring, MacBeth's Niece, 99 cents on Kindle
Beverle Graves Myers, Interrupted Aria-A Tito Amato Mystery, 99 cents in selected ebookstores
Ann Parker, Silver Lies (Silver Rush Mysteries Book 1) is 99 cents in selected ebookstores
Pricilla Royal, Wine of Violence (A Medieval Mystery #1), 99 cents in selected ebookstores.
Sarah Woodbury, Cold My Heart (The Lion in Wales Book 1), 99 cents in selected ebookstores.