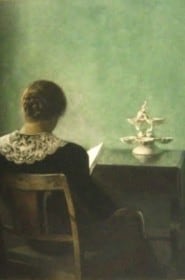 I recently wrote a long post for my own blog on why I love writing short stories, and in the process I discovered that six other of the members of the Historical Fiction Authors Cooperative (HFAC) have written short historical fiction as well (novellas or short stories).
I am not surprised.
One of my primary reasons for spinning off short stories from my Victorian San Francisco Mystery series is my desire to delve more deeply into the historical setting, a motive my fellow authors clearly share.
In my full-length novels, Maids of Misfortune, Uneasy Spirits, and Bloody Lessons, I often have to limit my descriptions of the places, events, and people of the past to keep the romantic or mystery plots moving forward. Since my short stories are more straight historical fiction, I can provide a greater level of historical detail, something that I find highly satisfying.
For example, in my short story, "Mr. Wong Rights a Wrong," found in my newly published collection Victorian San Francisco Stories, I expand on the history of Chinese immigrants in San Francisco and the reformers who were concerned with rescuing Chinese women from prostitution. In the short story, "Madam Sibyl's First Client," I introduce information about the ups and downs of the San Francisco economy during the 1870s. In both cases, the historical detail furthers the plot of the stories but would have felt extraneous in the full-length novels.
I suspect this also may have motivated two other HFAC members, Elisabeth Storrs and I.J. Parker. Storrs' fascinating novels, The Wedding Shroud and The Golden Dice, are set during a protracted period of warfare between the Etruscans and Romans in the Fifth Century BC, and one of the key themes of these novels is the differences between Roman and Etruscan attitudes towards women. In her short story Dying for Rome: Lucretia's Tale, Storrs is able to explore in depth how the actions of a Roman woman from a hundred years earlier helped establish some of the key cultural attitudes she describes in her novels. The story helps inform the novels, but if she had stopped and told the story within the bounds of one of her novels, it might have felt grafted on rather than germane to the plot.
As another example, I. J. Parker has written a series of short stories that feature Akitada, the protagonist from her excellent mystery series set in medieval Japan. It is clear from the reviews of Akitada and the Way of Justice (her collection of eleven of these short stories) that readers are particularly pleased by the way these shorter tales provide additional insight into the culture of 11th century Japan, including traditional holidays.
Short stories not only provide a chance to expand on the historical setting of a series, but they also can permit an author to expand on the personal history of characters, within that historical setting. The events in the first story in Parker's collection, "Akitada's First Case," predate the first novel in her series, and my short story "Madam Sibyl's First Client" is a prequel to the first book in my series, Maids of Misfortune, letting me tell the story of how my protagonist, Annie Fuller, became a pretend clairvoyant.
Several of the stories in V. R. Christensen's collection of short stories, Sixteen Seasons—a collection of short, sometimes strange, stories, also provide back stories for her full-length novels. For example, the short story "The Invitation" sets the stage for the events in Cry of the Peacock, while in "The Gift," important information is revealed about the mother of Imogen, the protagonist in Of Moths and Butterflies.
HFAC member Sarah Woodbury uses the short form in another way, placing the events of her novella, Winds of Time, midway between the first and second parts Footsteps in Time, the opening book in her After Cilmeri series. This was a story she wanted to tell, but it didn't fit into the longer books.
For me, it is the often the minor characters of my novels that I want to expand upon in my short stories. In "Dandy Detects," it is a Boston terrier that gets to play a crucial role in solving a crime, and in "The Misses Moffets Mend a Marriage," I had fun giving my two elderly dressmakers (who barely have speaking roles in the full length novels) an adventure of their own. My hope is, of course, that knowing more about these minor characters from the short stories will deepen readers' appreciation of them when they do appear in the longer books.
An example of this strategy can be found in Libi Astaire's work. In her Ezra Melamed Mystery series, Astaire provides readers with a unique take on Regency England by focusing on the Jewish community in London, and one of her most memorable minor characters is a flamboyant pickpocket named General Well'ngone. This character is wonderfully fleshed out in her short story General Well'ngon in Love.
The short fiction by two other HFAC authors reveal a fourth reason for writing short stories––they are just plain fun to write (and we hope to read.) In Masquerade, Susanne Alleyn retells a familiar fairytale by setting the story in the late 18th century––the time period of her full-length novels, and Loretta Proctor has used for her inspiration for her series of short stories the paintings by Edward Hopper set in the United States in the 1930s and 1940s.
So, if you haven't yet discovered the fun of historical fiction short stories or you are impatiently waiting for our next full-length books to come out, I sincerely hope that you will give some of the above short stories a try!
M. Louisa Locke, June 30, 2014