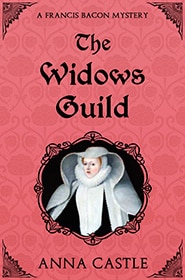 The third book in the Francis Bacon mystery series is called The Widows Guild. I invented the society of influential women, but not its founders: Francis Bacon's mother, Lady Anne Bacon, and his aunt, Lady Elizabeth Russell. I'm always looking for ways to bring women into my books as protagonists; in Bacon's case, I need look no farther than his own family tree.
The famous Cooke sisters
Francis Bacon's grandfather, Sir Anthony Cooke, had five daughters renowned for their learning and intelligence, an unusual source of fame for women in any age. Sir Anthony, like Sir Thomas More, was a humanist scholar inspired by the renaissance of classical learning that swept across Europe in the fifteenth and sixteenth centuries. (Humanist, because humans were the focus, not God or mysticism.) Unlike Sir Thomas More, Sir Anthony was a Protestant, well-aligned with Elizabeth's views on religion; not surprisingly, since he helped to form them. He was a tutor to Edward VI and thus close to power in the turbulent years preceding Elizabeth's accession.
Sir Anthony believed that girls should be educated as well as boys and taught his daughters to read and write in both Latin and Greek, giving them a solid foundation in classical literature as well. He served on religious commissions and held important offices, but is now chiefly remembered for having taught Francis Bacon's mother her Greek. Funny how the wheel turns.
Sir Anthony's daughters were Mildred (b. 1526), Anne (c. 1528), Margaret (c. 153?), Elizabeth (c. 1540), and Catherine (c. 154?.) Mildred married William Cecil, 1st Lord Burghley, the Lord Treasurer and the most powerful man in the kingdom. Both Francis and his mother wrote to Mildred regularly, begging intervention, favors, or just a word in his Lordship's ear at the critical moment.
Lady Russell
Elizabeth's first husband was Sir Thomas Hoby, diplomat and translator. They were stationed at the embassy in Paris when he died in 1566. The portrait on the cover of my book shows her in her widow's cowl, so she must have been about 26 when it was made. Sir Thomas's death left her alone in France, pregnant, with three other children in her care. She had to organize the transportation of her husband's body back to England through a country rife with armed religious conflict. She relieved her feelings by writing poems which have survived to this day. She also marshalled an entourage of twenty and herded them across the plains of France and over the narrow British Sea to entomb Sir Thomas with full honors at his home at Bisham Abbey.
Elizabeth's second husband was John, Lord Russell. He had the ill grace to die before his father, preventing Elizabeth from becoming a countess, to her lasting disgruntlement. She styled herself a countess nevertheless, insisting on precedence in all contexts. She remained a good friend of Queen Elizabeth throughout her life, with a few ups and downs. She maintained the Hoby home at Bisham Abbey, where she entertained the queen on occasion, but lived primarily in her large house in Blackfriars, London; very convenient for my purposes. I will write much more about her in the future, both in my books and in my blog. She has become a favorite series character.
The mother of a genius
I introduce Lady Anne in book two, Death by Disputation. She was far a more interesting and conflict-generating character in real life than I could ever invent. She lived on her estate in Gorhambury, near St. Albans, a mere twenty miles from London. Bacon's principal biographer, James Spedding, gives us many samples of the letters that she wrote to her two sons Anthony and Francis, remarking that it's important for us to remember that the Father of Science had such a mother living nearby and paying such close attention to his activities and his well-being.
Lady Bacon was a gifted linguist, fluent in Italian, Latin, and Greek, and even possessed of some Hebrew. Her translation from Latin to English of Bishop John Jewel's An Apology or answer in defense of the Church of England was highly regarded throughout Protestant Europe. It was published without her name on it, of course; she was a lady and ladies did not write books. Nevertheless, she was a respected participant in the campaign to develop and propagate Protestant doctrine.
She was a devout Calvinist who supported and protected nonconformist preachers at her home in Gorhambury throughout her long life. (She lived to the exceptional age of 82.) Her beliefs were considerably more radical than those of her husband, her sons, or the established church. She did not hesitate to make her views known to the authorities of church and government when she deemed it necessary. Judging from the tone of her letters, she was not one to be easily persuaded from her chosen course.
Lady Bacon was in charge of her two gifted sons' early education. No notes about her curriculum or materials survive, but we can imagine a program centered on religious doctrine in many languages, and including the full spectrum of humanist literature. Certainly Bacon seems to have read everything current in his day.
She and her sons were close throughout their lives, writing frequently among the three. Her letters are an endearing mix of scolding for insufficient piety, fretting about health and diet, and anxiety about false friends scheming to take advantage of her sons' innocence and inexperience. You can imagine how much the 26-year-old Francis, already an ancient of Gray's Inn, appreciated that advice.
Letters from Mom
Here are some illuminating examples. These letters were all written to Anthony.
"I trust you, with your servants, use prayer twice in a day… Your brother is too negligent herein."
"Let not Lawson [Anthony's friend], that fox, be acquainted with my letters. I disdain both it and him…. Send it back, to be sure, by Mr. Fant sealed; but he will pry and prattle."
"Procure rest in convenient time. It helpeth much to digestion. I verily think your brother's weak stomach to digest hath been much caused and confirmed by untimely going to bed, then musing nescio quid 'I don't know what' when he should sleep, and then in consequent by late rising and long lying in bed: whereby his men are made slothful and himself continueth sickly. … Let not your men see my letter. I write to you and not to them."
"If you deal with Elsdon, be very well advised… These days are full of fraud. My man said you wished to have strawberries to gift. I have sent I think all there be, and this day gathered… I send them by the boy of my kitchen, a shrewd-witted boy and prettily catechized, but yet an untoward crafty boy … It is here very hot indeed. Let not your men drink wine in this hot weather; nor your brother's neither; tell him." [That pretty, crafty boy sounds ideal for the Bacon brothers. And don't you love the way she leaps from fraud to strawberries?]
Can't you just imagine the brilliant, sophisticated Bacon brothers getting letters like this from their mother every single day? They loved her deeply, but there must have been a lot of eye-rolling — whilst enjoying the freshly picked strawberries.
References
Laoutaris, Chris. 2014. Shakespeare and the Countess. Penguin.
Spedding, James, ed. 1890. The Letters and the Life of Francis Bacon. Vol. I. London: Longmans, Green, and Co.
Anna Castle, November 2, 2015