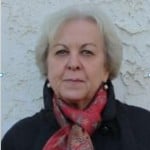 Born in Prague and now living in Calgary, Iva Polansky majored in Theatrical Costume Design at the School of Textile Arts. Her book Cross-Stitch Calligraphy was published by Kyle Cathie in London and later by Trafalgar Square for U.S. distribution. Iva is also involved in fibre jewelry design, as well as book cover and website design. (See Portfolio.)
The author of Sonya's War, a screenplay about the last days of Leo Tolstoy, and Fame and Infamy, a novel about a young American stranded in 1870's Paris, Iva was one of the co-founders of the Historical Fiction Authors Cooperative in 2010.
Websites (Portfolio / Fame and Infamy / Sonya's War) / Blog (Victorian Paris)
Historical Fiction eBooks featured on this website
*****************************************************************
HFAC Interview
Iva, you have written two historical works that are now available for e-readers. The first is a screenplay based on the dramatic true-life events during the last months of Tolstoy's life and the other is a novel set in 19th century France.
"Sonya's War" tells the story of Sonya Tolstoy's desperate attempts to get her hands on her husband's works. What was it that intrigued you enough to want to create a screenplay?
Leo Tolstoy's death in 1910 was a sensational affair that sold newspapers around the world. He was an 82-year-old writer of world-wide fame—a man of high standing, a political obstacle to the Tsar, a sage who influenced Gandhi—and here he is running away from his wife and expiring in a remote railway station. The events that pushed the old man over the edge simply demanded to be revived on screen. In 2005, as the 100th year anniversary of Tolstoy's death was approaching, I thought it was the right time for writing the screenplay. Of course, other writers had the same idea.
The story was filmed as "The Last Station" (2009) starring Helen Mirren and Christopher Plummer. How is your screenplay different?
"The Last Station" is fictionalized the same way as "Amadeus" or "Shakespeare in Love." It portrays Sonya as a temptress of ripe sex appeal. That's not the real Sonya. In my opinion, the true story beats any fiction. In "Sonya's War" the Tolstoys' children are not cut out of the picture as they are in the film. In reality they were all involved, especially Sasha, who organized her father's flight. The splitting of the family is an integral part of the drama.
Do you know anyone like Sonya?
No, nor do I want to. She was the ultimate drama queen, yet I cannot help but side with her. Try to understand the woman: She marries an aristocrat, bears him thirteen children, sees nearly half of them die, works as her husband's editor, copies millions of words and runs a large estate only to end up with a saint who preaches poverty and chastity, gives his possessions away and plans to release his entire works—worth two million rubles—into the public domain. She has not bargained for this and for her the financial security of her children comes first. What's more, she has to face the manipulations of her enemy who does not hesitate to pull her 48-year-long marriage apart for his personal gain. Had it not been for the outside forces, the tragedy could have been largely avoided.
Is Russian history your specialization?
It is not. I concentrated only on research related to the story. As a child growing in the former Czechoslovakia, then under the Soviet influence, I had to learn Russian from the age of ten. Not much of it has been retained, but it had certainly helped in writing Sonya's War. No, my usual playground is 19th century France where I set my novel Fame and Infamy.
What is Fame and Infamy about?
It's a lively mystery and a hearty clash of French and American cultures. A naïve young American from a frontier town comes to Paris as a lady's maid. She gets embroiled in a much-publicized crime and, released from police custody, she has to fend for herself. From a greasy restaurant kitchen, she steps into the rarefied atmosphere of Sarah Bernhardt's salon frequented by the rich and famous. There, Victor Hugo becomes her enemy. Photography brings her unwanted recognition and when she is brought to the attention of Chancellor Bismarck, who is plotting against France, she is already walking the thin line between fame and infamy. The story reaches the boiling point when the American community in Paris requests the French government to have her banished from France. But the real danger lurks elsewhere and has to be dealt with in a brutal manner.
It's France. Is there love involved?
Quite a bit, and since it is France, it's not a sedate affair.
There are many real historical persons in the story. How do you keep them true to life?
I respect their personalities. I make sure they do or say nothing that is out of character. For instance, Victor Hugo was a vindictive man so taking his revenge on the heroine is nothing he would not have done in real life.
The period of 19th and early 20th century continental Europe, in this case France and Russia, yields interesting stories both fictional and historical.
Many people consider 19th century quite dull while, in fact, it was one of the most explorative and innovative time of the Western civilization and, under the cover of strict morality, things went on that would shock even our permissive minds. The Victorian period (roughly speaking) is a gold mine for historical fiction writers who want to venture beyond the British Isles and the American Civil War.
Where are your books available?
On Smashwords for starts. The Kindle and printed versions will follow soon. For readers' convenience, Fame and Infamy has a companion site, Victorian Paris, with picture galleries, links to biographies and a short list of important events that shaped Paris during the period.
Thank you, Iva.
Annmarie Banks for Historical Fiction eBooks