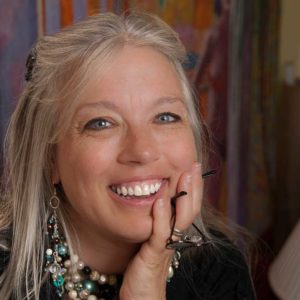 Sometimes writers create their books. Sometimes the book creates a writer.
People are fascinated with Viking culture. An authentic novel about Norse-era explorers never figured on Katie's list of novel topics, but life decided otherwise: a startling and uncomfortable epiphany left her with the clear understanding that she was to write a book based on the Saga of Erik the Red.
The experience was too shocking to ignore.
After nine years of careful research and work, Katie is proud to offer Viking: The Green Land, for readers who yearn for deep, well-crafted historical fiction. Male and female readers alike have expressed critical acclaim for this award-wining debut novel.
Katie lives in rural Maryland with her husband Mark and an assemblage of pets thoughtfully bestowed by their three grown sons…because doesn't every house need a Weimaranar and an adolescent Dalmatian, and extra cats? Because of this, she needs a lot of cake. Because of that, she must walk regularly.
Katie enjoyed a twenty-plus year career in software – sales, database customizations, and implementation project management. Following that, she served as Annual Fund Director doing successful fundraising and related communications for local and international families of a nationally-renowned private school. Her most recent volunteer work has been environmental activism. She holds a degree in biology from Swarthmore College.
Katie has done freelance writing for magazines and local newspapers, and was tapped to be launch editor for a hyper-local regional print publication. She wrote content for an architectural monograph for an international architecture/planning company (DDG: THE MASTER ARCHITECT SERIES REVISITED) and produced complex case studies about CRM installations.
Katie loves to dance, to build stone walls, and feels the need for pearls and high heels when cleaning the oven (which really doesn't need to be done but once a decade or so, when one really thinks about it.) Katie is currently working on the sequel to The Green Land. 
Katie can be reached via the following:
Facebook | Instagram | Website | Twitter | GoodReads 
Historical Fiction eBooks Featured on this Site
Author's other Historical Fiction
SaveSave
SaveSave