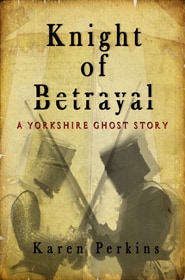 Although a great deal is written about the assassination of the Archbishop of Canterbury, Thomas Becket, in 1170, barely anything is written about his murderers. It is accepted fact that they were headstrong and bloodthirsty – and very drunk – knights who mistook a temper tantrum for a kill order from their king, but is that what really happened?
After the murder, the knights – Morville, FitzUrse, Tracy and Brett – fled to Yorkshire, hiding out in Knaresborough Castle. The legend says that they were hated and lived in disgrace, that even the local dogs wouldn't eat the scraps from their table, but again, was that the case?
The fact that King Henry II himself (also known as 'The Lion of Justice') carried out no punishment whatsoever on the knights – and allowed them to lie low in one of his castles – suggests that the real story is very different to accepted fact.
Knight of Betrayal explores the characters of the four murderous knights, and through them Henry II and Thomas Becket and their relationship, to discover the most likely story; a story of a great friendship corrupted by power. A story of two powerful men in two powerful offices – the greatest offices in England, those of the Crown and the Church – and both men had far too much to lose to consider backing down.
Once inseparable friends who hunted together, played together, drank together, and took on the Catholic Church and its bishops together, they became implacable enemies; the worst and most passionate of rivals. From the moment Henry forced Becket to become not only a priest, but the head of the Church in England in 1162, a bloody end was inevitable.
When his knights killed his old friend before his altar, Henry may have thought he'd won, but Becket is the man with a sainthood, a shrine and the Pilgrim's Way, which is still trodden today, nearly a millennium after his death. Through martyrdom, it was Becket who ensured victory.
Karen Perkins, April 27, 2015