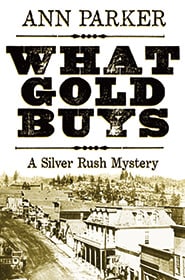 One of the many things that drew me to set a historical mystery series in Leadville, Colorado, was the avalanche of crime that descended upon the hapless community during the big silver rush that started in the late 1870s. Footpads, claim- and lot-jumpers, garrotters, bunko steerers, confidence tricksters: to them, Leadville was like some amazing Costco of opportunity. You only had to reach out a hand to find a victim.
A little background: Leadville grew from a sleepy mining camp of 300 souls in the winter of 1877 to somewhere around 20,000 to 40,000 (depending on where you set the city's boundaries) by early 1880. Most of this population increase occurred in 1879–1880, when people from all over the world fell victim to "silver fever" and stampeded into "Cloud City" situated at an elevation of 10,430 feet in the heart of the Rocky Mountains. No wonder the criminal element flourished: along with the naïve newcomers looking to pick silver nuggets up off the ground and get rich quick (it didn't happen, folks!), came investors with fortune aplenty, hoping to turn a quick profit, and folks who bundled up their life's savings and came to Leadville to start anew.
Early on in the silver rush, when Leadville first incorporated, law and order was recognized as a challenge. One of the first acts of the new city government was to appoint a police magistrate and a city marshal. But this attempt to stem the flood of crime was mostly just that: an attempt. R. G. Dill, editor of the Leadville Herald back in the day, reflected on the situation remarking, "It seemed as if the city were given up to the criminal classes, and the authorities were powerless to prevent it." He added that with so much wealth pouring into Leadville, theft and robbery was rampant. "To drug a victim, coolly rifle his pockets of every article of value, and throw him into the streets to be arrested for drunkenness, was among the most common methods of the thugs who infested the saloons and variety theaters. The dance houses… were thronged, and … many a novice, with more money than brains wandered in. If, in a moment of reckless abandon… he exhibited a roll of bills, he was almost sure to be spotted and followed by one or more of the desperadoes who infested the place; and the chances were that in the morning he would wake up in the hospital, or in some back alley, with bleeding head, and minus everything upon his person that could be any possibility be turned into money…."
So, where were the police and the town marshal during all this craziness? Well, in some cases, they were in cahoots with the criminals. In other cases, they were doing the best they could. By most accounts, they were simply overwhelmed by the magnitude of the problems. And, of course, all that chaos in the law enforcement arena gives me, a humbler spinner of tales, plenty of thread with which to weave my Silver Rush historical mysteries.
A precious metals assayer who gets in over his head when opportunity beckons, and the law takes the "easy way out" to explain his death in an unsavory part of town? Perfect! (I used that in Silver Lies.) A crooked cop who gathers business fees from saloon-owners and brothel madams alike is pocketing more than he reports? I can use that! (And I did, in Leaden Skies.) A woman dies in the back alleys of Leadville's red light district, and no one knows quite who she is, much less who killed her, and the death dismissed with a shrug by the local law? I can use that too! (In my newest, What Gold Buys.)
My saloon-owning, pocket-pistol-toting, straight-talking, morally-ambiguous protagonist Inez Stannert is pretty much free to tussle with evil-doings and evil-doers, bend the law when it serves justice, and investigate any damn crime she pleases without a whole lot of interference from Leadville's beleaguered and "ineffective" law enforcement.
No question about it: Leadville's silver rush era provides the perfect setup for my series and makes crime investigation plausible for Inez, in addition to providing a lot of fascinating real-life crimes as fodder for fiction. All in all, it's rather like… well… like picking silver nuggets off the ground!
Ann Parker, December 5, 2016
Ann Parker is the author of the award-winning Silver Rush historical mystery series, set in Leadville, Colorado in the 1880s and featuring protagonist Inez Stannert, who is one tough cookie in any era. In its starred review, Publishers Weekly calls the latest in the series, What Gold Buys, "emotionally and historically convincing" and lots of other nice things, while B&N Reads called the series "the best historical fiction you haven't read yet." For more about Ann and her series, see http://www.annparker.net.