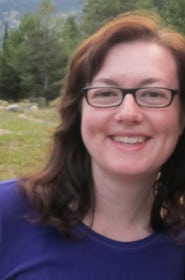 Libbie Hawker, in her historical writing, enjoys exploring the lives of women in various cultures and times, as well as treating history-turned-legend with close attention to accuracy and fact.
Her first series, The She-King (written under the pen name L. M. Ironside), explores the life and reign of Hatshepsut, the most powerful of Egypt's female Pharaohs. All four volumes of The She-King quickly found their way to readers' hearts, and have remained in the Top 100 charts of Amazon's genre lists since their publication.
Libbie's newest book is Tidewater: A Novel of Pocahontas and the Jamestown Colony (July 2014.) Many more historical novels are forthcoming, with settings that include Palmyra, ancient Persia, the Amarna court of Egypt, the Burned-Over District of 1860s New England, and others.
When she's not writing, Libbie loves to hike and backpack throughout the Pacific Northwest. She also paints landscapes and loves a good road trip. Libbie Hawker lives in Seattle with her husband and two cats.