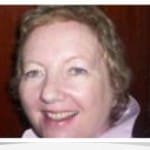 Born in Edinburgh, Scotland, Lorraine Fraser King emigrated to Australia with her family at the age of 16. They were among the last assisted passengers to sail to Australia – a six week luxury voyage for the price of ten pounds for each of her parents.
Lorraine graduated from Flinders University in South Australia and taught for three years before beginning a life of travel and work which has taken her to the Falkland Islands, Papua New Guinea, France, Turkey and the Isle of Mann.
She is currently a volunteer with the Cambodian Diabetes Association, Siem Reap, Cambodia, and working on a sequel to Mannin Boy.
Historical Fiction eBook featured on this website
HFAC Interview
The Isle of Man is a remote little island between Ireland and England in the Irish Sea. What is it about the residents there that inspired you to set your Young Adult novel, Mannin Boy?
I was inspired more by the atmosphere of Peel. The fishing harbour of Peel is dominated by the remnants of a 14th century castle perched on a small island. The shoreline of the harbour is lined with narrow streets of fishermen's cottages and old pubs. I would walk through the streets in the evening or on the weekends, wondering about the people who used to live in them.
I hoped that the story would show students that excitement and adventure can be found in real life, not only in worlds of fantasy and magic. Even in today's world, real life can offer these opportunities if individuals seek them out.
Before the 20th century children were expected to grow up much faster than they do now. What is it about Mannin Boy that appeals to your younger readers?
The book is targeted at youngsters from 12 years upwards, an age when young people are exploring their independence and in many cases, longing for the freedom of adulthood. I think its appeal is that the main character, Jamie, is living very much an adult life, thrown into a hard working environment and forced to make major decisions not only for himself but for his family.
His decisions place him in situations that are potentially life threatening, such as the power and unpredictability of the sea ,which ultimately took his father's life. He also has the possibility of changing his life forever by testing his luck in the Australian goldfields, an environment filled with rogues and murderous thieves.
All of the things that Jamie does are real-life opportunities which, although 12 year olds may not be able to do in this day and age in developed countries, theoretically, they could still do similar things when they turn 16 or 18, only a few years older than the readers themselves. In fact, Jamie's experiences are not unlike those that young people taking a gap year are looking for exploring far off, exotic countries, facing a lifestyle far from what they are used to.
The fact that the story reflects historical reality I think strengthens its appeal. Jamie's life is that of an ordinary twelve year old about 150 years ago. He doesn't have magical powers; he has no high-tech gadgets he is simply a youngster determined to protect his family by hard work and being prepared to face whatever life throws his way.
One of the interesting aspects of your novel is the unique vocabulary of fishing and sailing. Do you have personal experience in those fields?
As a child I lived by the sea and loved to watch the waves crashing over the promenade. At seventeen, I emigrated to Australia and was lucky enough to do so by sailing there instead of taking a flight. It took six and a half weeks and we did have the traditional crossing the line ceremony, part of which I used in Mannin Boy.
Later, I sailed in a fishing boat off the very southern-most tip of New Zealand, around Stewart Island, where we went to photograph albatross. Shortly after this, my husband and I spent a year in the Falkland Islands, which were littered with the wrecks of sailing ships. The history of these ships fascinated me and my interest in all things nautical continues.
Your young protagonist, Jamie, travels further from Man than he envisioned at first. Your descriptions reveal first-hand knowledge of faraway places. Where have you traveled and how did your experience influence Jamie's?
I have been to all the places that Jamie went to and, as mentioned above, a few more. I have spent many years living and working in foreign countries including Papua New Guinea, Turkey, France, Switzerland and currently in Cambodia. I have dual British/Australian nationality, and I guess having Jamie go from Britain to Australia was a way in which I could link both my homelands.
I chose this particular era because it was a very exciting time for sailing ships and the romantic adventures of gold rush fever both in the USA and Australia.
Where can we find your book? What kind of reader formats is it in?
The book is available in paperback at most major outlets including Barnes and Noble and Amazon.com, and in the Kindle version here.
Thank you, Lorraine.
Annmarie Banks for Historical Fiction eBooks