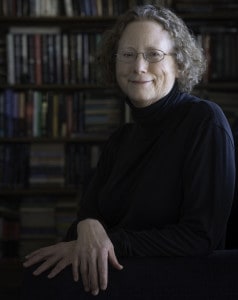 M. Louisa Locke, a retired professor of U.S. and Women's History, has embarked on a second career as the author of novels and short stories set in Victorian San Francisco that are based on Dr. Locke's doctoral research on late 19th century working women. In Maids of Misfortune, Annie Fuller, a young widow, goes undercover as a domestic servant to solve a murder, in Uneasy Spirits, Annie and lawyer Nate Dawson investigate fraudulent trance mediums, and in Bloody Lessons, they try to determine who is attacking San Francisco teachers. Deadly Proof, the fourth book in the series, is about women in the San Francisco printing industry and Pilfered Promises is about 19th century department stores.
Not just content with writing about the past, Locke has recently turned to the future with the coming of age science fiction adventure story, Between Mountain and Sea, set in the collaborative world of the Paradisi Chronicles. Locke is active in the Alliance of Independent Authors and the Historical Fiction Authors Cooperative. More about her work can be found at www.mlouisalocke.com
Locke can be contacted at the following:
Website / Twitter / Facebook/ GoodReads/ Pinterest
HFAC Interview
Your new novel, Maids of Misfortune, is a Victorian mystery set in San Francisco. What excites you about this genre?
As I reader, I love mysteries; the challenge of figuring out who the murderer is, the examination of the psychology of human behavior through the lens of crime and violence, and the satisfaction of a wrong being righted. As an historian, I am always looking for ways to illuminate the past for the general public. While working on my history doctorate, I discovered my first historical mysteries, Brother Cadfael series by Ellis Peters, and I knew I had found a way to combine my two passions, writing fiction and being a professional historian.
The protagonist, Annie Fuller, finds herself in a dilemma common to 19th century women, but she addresses the challenge in uncommon ways. Tell us how you were able to allow Annie freedoms not usually dealt to Victorian women.
Actually, Annie's freedoms were not that unusual. While Victorian social mores said that a woman should marry and devote her life to maintaining a beautiful home for her husband and children, there were a growing number of exceptions to that rule, even among the wealthier classes. Widowhood itself was probably the biggest exception. Widows like Annie Fuller, unless they came from families of enormous wealth, generally supported themselves through boarding house keeping, teaching, domestic service, or the sewing trades (all jobs held by women in the book.)
In addition, Annie's alter ego, Madam Sibyl, reflected the popularity of spiritualism and the occult during the period and dozens of trance mediums and fortune tellers could be found working in cities like San Francisco. Women like Victoria Woodhall, who opened a NYC brokerage firm in 1870, or Clara Foltz, the divorced woman who became the first woman to be admitted to the California Bar in 1879, were also role models for young educated women, like Annie Fuller, who began to push against the limitations of Victorian society.
This aspect of Annie's character makes her appealing to modern women while retaining the charm of a bygone era. The detail you insert into the story takes the reader back in time as all good historical authors do. What was your favorite area of research?
My dissertation was on working women in the far west in the late 19th century, and there is a reason my book is called Maids of Misfortune. Domestic service was the occupation held by the largest number of young single working women of the time and I had fun using the material I had gleaned from the writings of mistresses, the studies of reformers, the 1880 manuscript census, and a few rich primary sources, my favortie being the diary of a young German domestic named Anna Harder. It was her complaint about sitting on the doorstep, waiting for her mistress to let her in after her night out, that prompted the key idea behind Maids of Misfortune.
Murders are meant to be solved, and the central murder in this case is important to many of the characters. What was the most interesting element of plotting a murder?
The most difficult, therefore most interesting, element was setting up the red herrings. I needed to play fair with the reader and develop clues that led to the real murderer, but I also had to develop believable motives for other characters so that it wouldn't be too easy for the reader to know "who done it."
Please tell us where readers can find your book, and in what formats it is available. If readers want to know more about Annie and her adventures, where can they get updates on the sequel?
Check out my author website to find where you can buy Maids of Misfortune as an ebook and a print book. In addition, I have an author facebook page where I provide interesting facts and pictures of Victorian San Francisco, as well as frequent updates on the progress I am making in writing Uneasy Spirits, the sequel to Maids of Misfortune.
Thank you, Mary Lou.
Annmarie Banks for Historical Fiction eBooks
SaveSave