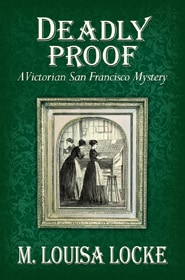 Authors of historical fiction get their inspiration from many sources. Sometimes it comes from a fascination with certain famous individuals (you will find plenty of books about various kings and queens and famous artists in our catalog) or specific events (wars in particular seem fertile ground for inspiration.) Sometimes the inspiration comes from that kind of "what if" question that leads an author to write about what would have happened if something in the past changed—or if you sent someone from the present back to the past. For others it is a certain time period (our medieval catalog is particularly robust), or a particular region or country (we have books about China, Japan, England, Wales, Scotland, Ireland, France, Greece, Italy, Spain, Etruria, Crete, Latin America, United States of America, and various parts of the middle east.)
My own inspiration has been very specific. Thirty-five years ago, while writing my dissertation on working women who lived in the cities of San Francisco, Los Angeles, and Portland at the end of the 19th century, I decided I wanted to write mysteries that featured these women and the occupations they held. From that idea came my Victorian San Francisco Mystery series, and the fourth book of the series, Deadly Proof, has just been published.
My first book in the series, Maids of Misfortune, focused on domestic service because the largest percentage of women who worked for wages throughout the 19th century had that job. In fact, nearly sixty percent of all young, single, foreign-born women working in San Francisco in 1880 were domestic servants.
In my second book, Uneasy Spirits, I chose to explore an occupation that appears fairly exotic—clairvoyance––but one that gave women a good deal of power and influence in that time. For instance, ads by women who claimed that their powers of clairvoyance enabled them to offer medical or business advice or tell the future filled the 1880 San Francisco Chronicle.
In my third book, Bloody Lessons, I turned to public school teaching, an occupation like domestic service where women predominated numerically. However, unlike domestic service, teaching was one of the few occupations held by women that was considered both respectable and paid a living wage and therefore attracted a completely different group of women—primarily women of native birth, many who came from middle class families.
For each book, the inspiration for my settings, characters, and plots—including the very mysteries at the core of my stories––came from my research into these occupations—the nature of the jobs, the kinds of women who held them, and the obstacles women faced in working for wages in a period when women were supposed to confine their activities to the home.
For example, I got the initial idea for the plot of Maids of Misfortune from a diary by a San Francisco servant who complained about getting locked out of the house after her night out, and for Uneasy Spirits, it was the biographies of some prominent Victorian era clairvoyants that helped me create of one of my favorite characters, the odd young trance medium, Evie May. In Bloody Lessons a tentative idea I had for a poison pen writer became a key plot motivation when I discovered that local city school teachers were actually being targeted by politicians who wanted an excuse to lower their wages.
For Deadly Proof, my fourth book in the Victorian San Francisco Mystery series, I decided to feature a different kind of occupation—one that consisted of skilled labor that was done primarily by men but also employed a significant number of women. As a result, this book is about women who worked in the printing industry in San Francisco in 1880.
From the time of the invention of the printing press by Gutenberg in the 1440s, there is evidence of women working in the printing and publishing industries—as printers, typesetters, compositors, and bookbinders. The earliest examples were nuns, but throughout most of the early modern period in Europe, it was the wives and daughters of master printers who are recorded working in these capacities. We can see the same pattern developing in the American colonies; for example, in the 18th century we find Ben Franklin's wife, sister-in-law, and nieces all assisting their male relatives in the family printing business. There is also abundant evidence that many women inherited and then continued to run printing companies when their husbands died throughout the early modern period in Europe and America.
However, in the 19th century, printing began to move out of the family shop to more industrial settings—particularly for companies that concentrated on newspaper and periodicals. These firms were more likely to be unionized and resistant to hiring female labor. On the other hand, numerous smaller establishments that did book or "job" printing still flourished, and women were more likely to find work in these shops. In fact, in 1880 nearly twelve percent of the workers in the printing and book-binding industries in the United States were women––an unusually high percentage of women for a traditionally male-dominated form of skilled labor.
Yet, when women moved west and looked for jobs in this industry, they had trouble getting them–with women holding less than 5 percent of the printing jobs in San Francisco in 1880.
One explanation for this seems to be the continued resistance of the local Typographical Union's to admit women to the union. Even though the national Typographical union had let all-women locals join as early as the 1860s, the San Francisco local didn't admit any women until 1886.
But the women who had learned these skills did not take this resistance lying down—perhaps because work in the printing industry was second only to teaching in terms of the average wage a woman could make. Some of women decided to act as strike-breakers to get their foot in the door with employers who wouldn't otherwise hire them. Other women formed their own women-run printing businesses—such as the Women's Co-operative Printers Union. And, not surprisingly, many of these literate and highly skilled women also supported the women's rights movement in California—using their training to put out magazines and newspapers committed to furthering the goals of this movement—including the right to vote and equal pay for equal work.
As you might imagine, what I learned about this occupation provided plenty of inspiration as I began to write Deadly Proof. For example, the Women's Co-operative Printers Union became a key setting for the story, a real printer who exploited his female apprentices became a model for my murder victim, and the mechanics of typesetting provided crucial clues for solving the mystery.
In short, I was fascinated by what I discovered about the lives of women in the San Francisco printing industry, and I hope that from that research I have been able to create in Deadly Proof a story that is both entertaining and informative.
 M. Louisa Locke, February 23, 2015