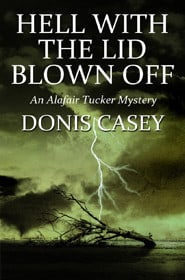 Hell With the Lid Blown Off  takes place in Muskogee County, Oklahoma, during the sultry summer of 1916. Storms are brewing all over; the country is teetering on the brink of World War I. Alafair Tucker fears for her children's future as they grow up and her ability to protect them wanes–and then, a big twister cuts a swath of death and destruction around the county. No family is spared, including Alafair's.
But no one is going to mourn the loss of local bully Jubal Beldon, who had made it his business to know the ugly secrets of everyone in town. Yet even in death Jubal isn't going to leave his neighbors in peace. He was already dead when the tornado carried his body to the middle of a field. Did he die in an accident, or had one the victims of his malicious threats finally had enough? There are plenty of people around the little town of Boynton who would have been happy to do him in, including members of his own family.
As the town sheriff Scott Tucker and his deputy Trenton Calder look into the circumstances surrounding Jubal's demise, friends protect each other as fast as secrets come to light. As facts come to light, it turns out that the prime suspect may be someone very dear to the widow Beckie MacKenzie, the beloved music teacher and mentor of Alafair's daughter Ruth.  Ruth fears that the secrets exposed by the investigation are going to cause more damage to her friend's life than the tornado. Alafair has her own suspicions about how Jubal Beldon came to die, and the reason may hit close to home.
The seventh installment in the Alafair Tucker series deals with the aftermath of a killer tornado, for living in Oklahoma means living with the possibility of bad storms. Since reality is just as bizarre as fiction when it comes to tornados, most of the storm-related events depicted in the book are taken from first-hand accounts.  It is true that the wind in a tornado is so strong that a person caught without shelter can't breathe or even close his eyes. A twister really can suck all the water out of a small pond or even an uncovered well.  A building can be sheared in two and half left standing untouched. The wind really has been known to  blow all the feathers off of a bird. And a child truly can be blown three miles and found alive in the mud.
Readers can enjoy the first chapter of each of Donis' books at her website, http://doniscasey.com
Donis Casey, July 7, 2014