In the 1930s – in spite of the Great Depression – American cars positively sizzled with personality.  Sure, there were Fords and Dodges and Buicks aplenty.  But who hasn't heard of them?  Even their highbrow cousin Cadillac wouldn't flutter the pulses of someone like me, whose interest in cars has ever been limited to: Does it start?  Does it run?  Can I figure out those weird little symbols on the dashboard?
Ah, but whisper Marmon or DeSoto, Roosevelt or Packard, Nash or Scarab and I turn to putty.  I deteriorate into a former nice girl seduced by growling, purring horsepowered poetry of another era.
Who wouldn't be charmed by a gaudy little car whose gingerbread looks bring to mind a gypsy fortune teller's horse-drawn caravan or a circus wagon?  Or by the strange lines of the Stout Scarab which resembled the insect its name suggests?  Yet it's their names, more than anything, which draw us into the past.  They help weave the fabric which makes a story come alive for both reader and writer.
Maggie Sullivan, the private eye protagonist of my mystery novels NO GAME FOR A DAME and TOUGH COOKIE, drives a 1937 DeSoto business coupe much like the one shown here.  It sold for $695.  Although in the medium price range, it still spells success for a young, single woman at a time when most nurses, teachers and office workers of both genders still rode the trolley.  Her job, of course, requires the mobility provided by a reliable vehicle.  With 93 horsepower and an all-steel roof, Maggie's DeSoto is up to the rough and tumble of tangling with small-time thugs and big-time gangsters.

Maggie's car illustrates how the shape of cars changed in the '30s.  Most manufacturers began the decade with cars that were boxy looking.  In the second half of the decade, they began to acquire the streamlined, even teardrop shape similar to cars today.  Headlights that previously stood out like eyes on stalks began to be built into the automobile body.  Such differences prove handy when she's tailing someone in traffic, or when the police hunt for a vehicle involved in a hit-and-run that occurs in TOUGH COOKIE.
The Maggie Sullivan mysteries take place in Dayton, Ohio, and one of that town's most famous citizens chose to drive a car called a Terraplane for different reasons.  That man was Orville Wright, one of the two brothers who invented the airplane.  He was thrifty.  He also admired a well-built engine.  The Terraplane, which was manufactured only from 1932-36, was both inexpensive and powerful.
Like the Terraplane, some of that decade's cars were short lived.  Some brands, including the luxurious Peerless, were victims of the economic devastation of the Depression.  Even manufacturers that survived cut production and did away with big luxury models.  With a quarter of America's workforce jobless, even many millionaires shied away from gas-guzzling cars, either for appearances or to watch their pennies.
Not so Maggie's client in TOUGH COOKIE.  He unrepentantly enjoys the comforts of a chauffeured Cadillac with a V-12 engine.  He does, however, avoid the ostentation of a V-16!
I'll end this little trip back to the 1930s not with that glossy limousine, but with a car that looked almost identical.  It, too, is a Cadillac, though only a measly V-8.  The car pictured, however, has something the limousine doesn't, a reinforced front bumper that could ram through brick walls.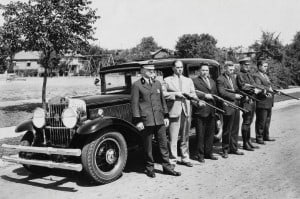 This special car was nicknamed the "Bank Flyer".  It's briefly seen and its function explained in TOUGH COOKIE.  The Dayton Police History Foundation www.DaytonPoliceHistory.org  has kindly allowed me to use it here.  You can enjoy the full story of this remarkable vehicle, written by retired Dayton police sergeant Steve Grismer at www.daytonhistorybooks.com/bankflyer.html.
With so many long-vanished cars to choose from, let's go for a ride together again sometime.
M. Ruth Myers, November 12, 2012