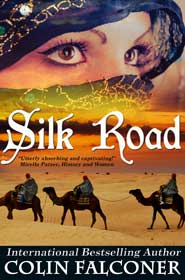 Silk Road

The Holy Land, 1260. Josseran Sarrazini is chosen to escort the Pope's emissary on an embassy to the all conquering Mongol horde in an effort to save all Christendom form destruction. But although he serves as a Templar warrior, Josseran is not all that he appears to be – and he despises the Pope's man on sight.
Now they have to spend nine months in each other's company on the most dangerous and most inhospitable journey on the earth – across the legendary deserts of Persia and the horrific black hurricanes of the Taklimakan, along the Silk Road to Khubilai Khan's legendary capital at Xanadu.
When he sets out, Josseran cannot know then that he will never see Christendom again.
And somewhere near the Roof of the World a Tatar princess, possessing a gift for prophesy, refuses all her suitors and defies her father's attempts to marry her off to the sons of other tribal chiefs. She does not belong in her world any more than Josseran belongs in his.
And now fate will bring their paths on a collision course somewhere on the Silk Road and change the course of her own life forever.
From the Storehouse of Winds to the Palace of Myriad Tranquillities, over the Pamirs and Hindu Kush to the legendary Xanadu and the dazzling court of Khubilai Khan. This is romance and adventure on a breath-taking scale.
(465 pages; ebook $6.99 USD)
Reviews of Silk Road

"Stocked with exquisite details, each chapter paints a mural for the senses, describing in detail articles, scenery, characters, and architecture so that one truly feels as if they are experiencing the story instead of merely reading it. Clashes, politics, characters ever at odds with each other, good and evil, love and hate, sin and goodness, and much, much more all culminate into a very satisfying ending. A profound story of great depth that will please both genders and one I strongly recommend. Utterly absorbing and captivating!" – Mirella Patzer, History and Women