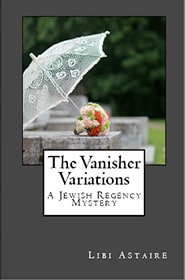 If you write a mystery series set in Regency England, eventually you will have to send your sleuth down to Brighton, the seaside playground of the Prince Regent and his cohorts, because the possibilities for crime are too tempting to resist. Those bathing machines and bathhouses used for taking the cure could also provide a perfect setting for some nefarious deed—such as the vanishing act that sets in motion the plot for my newest Jewish Regency Mystery, The Vanisher Variations.
By the Sea, By the Sea
Taking the sea cure at Brighton became fashionable when George, the Prince of Wales, first visited there in 1783, seeking a remedy for swollen glands.
The idea of bathing in sea water as a cure for medical complaints was the brainchild of Dr. Richard Russell, who thought the waters of Brighton were especially beneficial. Russell built a home in Brighton near the sea and set up a sort of health clinic, but he soon encountered a problem. Since most people didn't know how to swim, a person couldn't just walk to the edge of the shore and dive in. Taking the cure therefore developed into a complex ritual with its own rules—and which took into account the era's sense of decorum.
While it was rare for a woman to bathe in the nude—she'd wear a billowing bathing costume instead—men often did. Therefore, for modesty's sake, men and women bathed at separate places and during separate hours.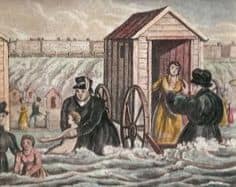 There were no lockers or changing rooms by the shore. Instead, a person would hire a bathing machine—a small wooden room affixed to carriage wheels that was drawn into the sea by a horse. After the person changed their clothes inside the cabin, a professional "dipper" would dunk the person in the sea several times. It was the dipper who would determine the state of the waves and the state of the client, and decide the amount of time the person spent in the water. Once the "cure" was completed, at least for the day, the person re-entered the bathing machine and changed back into their regular clothes, while the horse made the return trip to shore.
Before Brighton became a fashionable seaside resort it was a small fishing village, and some of the former fishermen and their families became dippers instead, as a way to earn a living. But dipping wasn't an easy job. Standing all day in the sometimes rough waters called for a strong constitution. Plus, you needed strong arms to dunk the sometimes not so svelte bathers. Yet the two most famous practitioners of the art—Martha Gunn and John "Smoaker" Miles—lived until 89 and 70 years of age, respectively, and so there must have been healthful benefits to the job as well.
Vapors from the East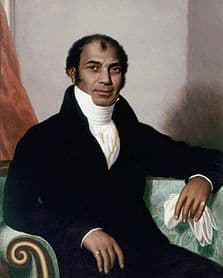 During the "season," the demand for a bathing machine and dipper far exceeded supply. Fortunately, there was also a different kind of cure on hand: Sake Dean Mahomed's "Indian Medicated Vapour Bath."
Born in India and a Muslim until he married his English-born wife and converted to Christianity, Mahomed was a flamboyant character well suited to the often flamboyant Regency era. He established a very successful "vapour bathhouse" in Brighton that was frequented by the Prince Regent as well as ordinary people seeking a cure for gout, rheumatism and other aches and pains.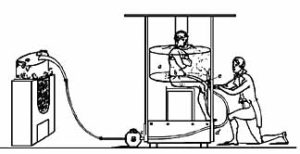 Mahomed's cure consisted of two parts, a shampoo and a vapor bath. The word "shampoo" came from the Hindi word "champi," which meant a head massage. Thus, when Mahomed described himself as a "shampooing surgeon," he was referring to his therapeutic massages with Indian oils and not to his skills as a hairdresser. The private vapor baths were like an individualized steam bath. Herbs and essential oils were added to the bath, a wooden apparatus that fit around a person's body, to increase its therapeutic properties.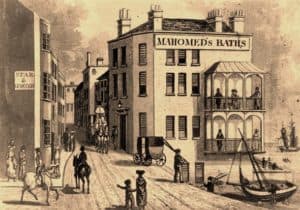 There were other bathhouses in Brighton, and so competition was stiff. But Mahomed had a knack for advertising and making the most of his friendship with the Prince Regent, a friendship that continued when the Regent became King George IV. At the height of his fame, a visit to Mahomed's bathhouse was de rigueur not only for fashionable English ladies and gentlemen, but also for visiting foreign dignitaries. And despite his "Hindoo" heritage—Asians, unlike products from India and elsewhere in the East, were a rarity in Regency England—Mahomed was an accepted figure in Brighton society.
Yet most fashions come to an end, and by the 1830s Mahomed's baths were considered passé, while he was looked upon as an elderly curiosity.
Brighton Variations
Did those sea cures and vapor baths really work? They probably provided at least some relief. And Brighton had its share of other amusements—balls, promenades, donkey rides, and the like—to keep a person's mind occupied with things other than aches and pains.
Yet when my sleuth, Mr. Ezra Melamed, goes to Brighton he doesn't have time for sea cures or donkey rides. He knows there is only one cure for a person who has seemingly vanished into thin air while taking a vapor bath at Mr. Mahomed's establishment: Find her, if he can.
Libi Astaire, November 21, 2016