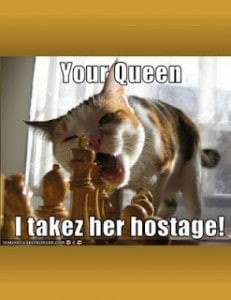 Did you know that Robert the Bruce's wife, Elizabeth, was captured and held in custody by the English for 8 years?
In 1306, Robert the Bruce and his ragged band were fleeing south through the Scottish Highlands after a devastating defeat by the Earl of Pembroke at the Battle of Methven. On the 11th of August, near the Pass of Dalry, they were ambushed by Argyll warriors led by John of Lorne. Before engaging with Lorne's forces, Robert sent his wife, Elizabeth, daughter Marjorie, and sisters Mary and Christina off with the Earl of Atholl and his brother Nigel (or Neil).
Nigel Bruce reached the Bruce stronghold of Kildrummy, but within the month the castle was besieged by the English. Unfortunately, the castle blacksmith, lured by promises of gold to whomever handed the fortress over, set fire to the stores of grain. Nigel was forced to surrender. He was hanged and beheaded in Berwick.
Elizabeth Bruce and the other women, however, were not at Kildrummy. They had been escorted further north with the Earl of Atholl, with the aim of reaching Orkney where they would take ship to Ireland to hopefully reunite with Robert. They made it as far as St. Duthac's shrine near Tain, when they were captured by the Earl of Ross, a supporter of the Comyns, Bruce's enemies. They were transported to the monastery of Lanercrost – straight into the hands of Longshanks.
The Earl of Atholl was conducted all the way to Westminster, where he met the same fate as Nigel Bruce. His head topped a pike on London Bridge. Marjorie Bruce was placed in a wooden cage, which was hung from the walls of the Tower of London (although she was later moved to a nunnery); Mary Bruce was sentenced to a similar fate at Roxburgh Castle; and Christina Bruce was treated more leniently, being consigned to a nunnery.
Queen Elizabeth was too valuable for Longshanks to risk her health. She was placed under house arrest at Burstwick-in-Holderness, where she spent the next eight years of her life.
Much happened to Robert the Bruce during this time. In June of 1314, the Scots triumphed at the Battle of Bannockburn over the English, led by King Edward II (Longshanks' son). While Edward fled to Berwick, the Scots also captured the English baggage train, which included the Great Seal of England and the Royal Shield. King Robert was able to use these to procure the release of his female kin (all but for Mary, who is presumed to have died).
After eight years apart, he and Elizabeth were finally reunited. Even though they did not have any children in the early years of their marriage, they had two daughters and two sons after Elizabeth's return.
Now that's a happy ending!
N. Gemini Sasson, The Bruce Trilogy, September 11, 2012
Post originally appeared on Sasson's website