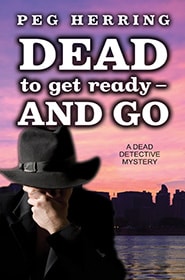 Dead, but still working. That's the idea behind the Dead Detective Mysteries. Book #1, THE DEAD DETECTIVE AGENCY, was named Best Mystery of 2012 by the Electronic Publishing Internet Coalition. Readers met Seamus, a detective who died in the 1950s and has been hanging around the gateway to the Afterlife ever since, helping murder victims learn who killed them and why. Two subsequent books, DEAD FOR THE MONEY and DEAD FOR THE SHOW, concern recently-deceased clients Seamus takes on. Once he answers their questions, they can proceed to the final phase, a glorious though mysterious passage.
Seamus himself has been unable to make that passage due to his own murder. He knows he was drowned in frigid Lake Michigan, and he knows his wife and best friend were involved. More than that he's avoided investigating until now, in DEAD TO GET READY—AND GO.
The book takes place in 1953, which created problems for me. I was three years old, so it's hard to recall much except that swing I really wanted Dad to install in the yard. I grew up in rural Michigan, so I know little about city life at the time. In addition, the Dead Detective Mysteries as a whole presented a third problem that my editor called "writing about religious things without being religious."
Let's take the last one first. My version of the Afterlife is whimsical, a mix of Sunday-school learning and my irreverent sense of humor. The initial stage of death is a luxurious ocean liner where people get all the rewards imagined by the Faithful. It's managed by Michael and overseen by Gabriel, who see that their clients' adjustment to being dead is as painless as possible.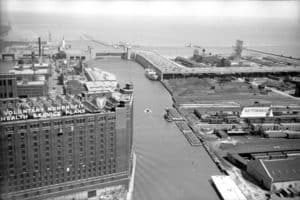 When a writer delves into history, she'd better be ready for experts at many levels to judge how well she's done it. Writing about the fifties is dangerous, because there are plenty of people around who remember the time. I began with research on Chicago, looking at photos to get a sense of what the city and the people looked like. A friend loaned me a book on old hotels, and I copied some of its pictures in order to imagine my characters going there and even living there.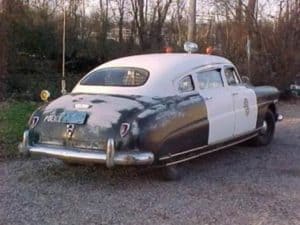 Other photos I found showed police cars and uniforms of the era. I looked at maps of the city, including the so-called Black Belt, where the African-American population centered. I planned routes for my characters from their homes to locations mentioned in the plot. I also studied L routes (even the terminology is interesting: Elevated train to El to L). Then I drew my own diagram of the night club that was central to the story. It sits on the Chicago River, close to Lake Michigan, which was still spotted with ice on the night of Seamus' death.
Most important to me were impressions of the time, ways to bring the fifties to life–or back to life for those who lived them. I spoke to Chicago residents who obligingly pulled up memories for me to include. One remembered a horse-drawn garbage barge that came slowly up the river so people could toss their trash aboard as it passed.
Women I spoke to recalled deliveries and salesmen that came to their doors, extras like dish towels and drinking glasses included in boxes of laundry detergent, and never leaving the house without a hat and gloves. Upholstery that was scratchy but durable. Crowded and inadequately equipped apartments that were the only choice for minorities. And the expectation that Negroes (the common term of that time) accepted second-class status. For example, while Chicago had black police officers at all levels, it was generally expected that white people would be arrested only by white cops. I used that in the book, pairing an experienced black officer with an inexperienced white one and watched their relationship grow.
Details about a book's time are important, as is getting the mind-set of the era correct. The work I put into that makes a story more fun for me to write, and—one hopes—more fun to read.
Peg Herring, May 30, 2016
DEAD TO GET READY—AND GO and the other Dead Detective Mysteries are available from Amazon in e-format and paperback and from Ingram in print. Book #1 is out in audio, and others of the series are either in production or soon will be.
Peg Herring is the author of several mystery series, including the Simon & Elizabeth Tudor-era Mysteries, the intriguing Loser Mysteries, and the award-winning Dead Detective Mysteries. She lives in Michigan with her husband of many years, but she's always willing to travel at a moment's notice. Find out more at Peg's website: http://pegherring.com