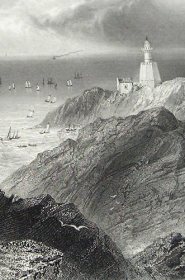 Is it the raging seas or the skies or the wind or the drama of it all? I have no real answer to the reason why so many of us love lighthouses. Perhaps it's the idea of that beacon of light and human kindness piercing the storm and helping to guide the mariners to a safe shore rather than let them perish on the rocks. That's a strong, almost religious reason, I suspect, because it is also a symbol of our passage through life, isn't it? Those moments of drama and stormy emotions, moments of pain and sorrow; sometimes feeling lost and bewildered about which way to go, fearful of the dangers, wondering if we'll arrive in a safe harbour or perish on the journey.
It was indeed a dangerous undertaking in the past for mariners who sailed the seven seas. They had to negotiate shores filled with unknown sand bars, jagged rocks and fearful depths containing, as they believed, monsters and sirens to lure them astray or devour their ship. It can still happen. Not the fear of monsters any longer but the incompetence and stupidity of a foolish captain such as the one who sailed the huge cruise ship, Costa Concordia, too close to the island of Isola de Giglio and sank it!  That however, was due to human folly and not the fault of the seas. Imagine sailing close to a shore at night, everything pitch dark around you, a storm raging and driving the ship hapless and lost towards an unknown coast. How wonderful to see that welcome beam of light slowly turning in the sky, showing you the land mass and where danger lay. From coast to coast those circling beams radiated their message of salvation.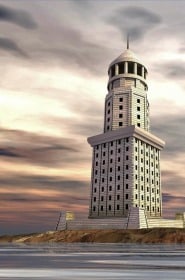 In the ancient times, ships didn't sail at night but grounded the ship on a beach to protect it. It was only when trading began to take place between far distant countries that the ships had longer and more difficult journeys and more wealth to distribute. Lights were installed in some harbours but they were never strong enough and eventually more powerful lighthouses began to be constructed. No sailor wanted to perish and no trader wanted to lose his cargo.
One of the greatest of ancient lighthouses was, of course, the great Pharos at Alexandria which dated from 300BC situated where the Nile flows into the Mediterranean sea. This amazing structure was built of white marble and it took its name from the island where it stood . . . Pharos.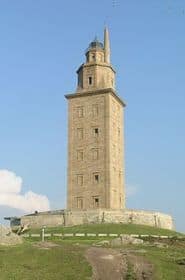 There is still an ancient lighthouse in use today called the Tower of Hercules (pictured here) which was built by the Romans in the second century AD near La Coruna in Northern Spain.  To climb to the top of this tower takes a journey of 242 steps which was pretty tough on the keeper!   Many myths abound around this lighthouse and its origins.   One of them states that the King Breoghan (the founding father of the Galician Celtic nation) was able to see a beautiful green shore from the top. He sailed over in that direction. It turned out to be the Emerald Isle itself, beautiful Ireland, and his descendants became the Irish race. I love such myths. It isn't hard to imagine the Roman triremes passing this amazing structure . . . though its position is a strange one and no one is too sure now what traffic was intended to be directed to which shore. But much has changed since then and even the contours of the land have altered over the years. It is now a heritage site in Spain.
At first the idea of building lighthouses in Britain was strongly opposed. It was a lucrative business for many living in coastal areas where life was predictably seasonal and harsh and alleviated some of their poverty. Thus there was always a lot of joy on a stormy night when a wreck was likely to founder off the dangerously rocky coasts of Britain. Even the preachers were involved and would take off their robes and cassocks and set to with everyone else to rescue the hogsheads of wine, butter, tobacco and whatever other riches could be liberated form the seas. They hid their plunder in church towers, caves, cellars and other places, away from the watchful eye of the coast guards who were formed to try and prevent these practices. But as whole communities were involved, it wasn't that easy to catch the culprits. The tales of ships being lured by false lights is unlikely to be true as no ordinary oil light would be powerful enough to be seen out at sea in a raging storm. The notion of drowning sailors being killed in order to have nothing to tell their ship owners of the plundering is often exaggerated as well. But it all makes for exciting reading!
Loretta Proctor, October 19, 2014
Find her exciting WWI historical novel, The Long Shadow, for 99 cents as a Kindle Countdown through October 25, 2014.