The Thinara King
Ash, earthquakes, and tsunamis devastate Crete. The will of the survivors fades as the skies remain dark and frost blackens the crops. Aridela must find a way to revive the spirit of her people along with rebuilding her country's defenses.
More threats loom on the horizon–Greek kingdoms who see a weakened Crete as easy prey. And now, Chrysaleon, he who carries the ancient title of The Thinara King, feels the shadow of Death over his shoulder. Will he thwart his fate? No other man ever has.
(word count 90,000; ebook: $3.99 USD, paper $13.99)
Read the complete 3-volume "Child of the Erinyes" set on Kindle Find the complete 3-volume set on other platforms
https://books2read.com/u/3yrkBm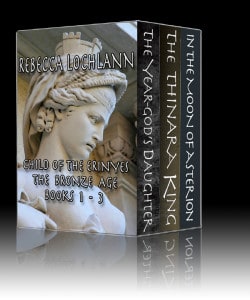 Reviews of The Thinara King

"Lochlann weaves raw passion and black betrayal into an epic tale of destiny–a master storyteller at the height of her powers." —Sulari Gentill, author of The Rowland Sinclair series and The Hero Trilogy, published by Pantera Press.
"What a wonderful mythic tale–different time and place, but certainly reminiscent of Marion Zimmer Bradley's Mists of Avalon." —Valya Dudycz Lupescu, author of The Silence of Trees, published by Wolfsword Press.
"Loads of testosterone, slaughter, and crazy magic." Heather Richardson, author of Magdeburg, published by Lagan Press.