The Year-God's Daughter
For time beyond memory, Crete has sacrificed its king to ensure good harvests, ward off earthquakes, and please the Goddess. Men compete in brutal trials to win the title of Zagreus, the sacred bull-king, even though winning means they'll die in a year.
Two brothers from predatory Mycenae set out to thwart the competition and their deaths as they search for exploitable weaknesses in this rich, coveted society.
Hindering their goal is the seductive and fearless Cretan princess, Aridela, an uncommon woman neither brother can resist, and ancient prophecies, which predict that any threat to her people will spark Goddess Athene's terrible wrath in a calamity of unimaginable consequences.
(110,000 words; ebook: $3.99, paper $13.99)
Read the complete 3-volume "Child of the Erinyes" set on Kindle Find the complete 3-volume set in other platforms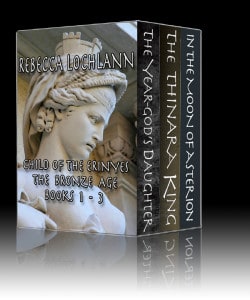 Reviews of The Year-God's Daughter

This book is beautiful and lyrical. It is quite an achievement: an historical novel with all the mythic wonder of the best fantasy. The narrative is richly textured, breathing vitality and passion into the characters and the ancient world they inhabit. Once read, it will be difficult to look upon the ruins of Crete without hearing the breath of this drama. PD Allen, author of Quantum Meditations.
"There is, quite simply, nothing about this book which is not superb. You have translated words, ideas, poetry, character, myth into an alchemic wonder, a dazzling novel of the ancient world, and are a fit heir to the great mantle of such writers as Mary Renault, Scott O'Dell and Robert Graves, and even, dare I say it, the goddess herself." M.M. Bennetts, author of May, 1812 and Of Honest Fame, published by Diiarts.
"A collision of destiny and passion from the pen of a true bard." Sulari Gentill, award-winning author of The Rowland Sinclair series and The Hero Trilogy, published by Pantera Press.
"A difficult subject risen to with an imagination at the height of its powers. I have a vivid memory of my trip to Mycenae and you gave back to those broken stones all their lost life and colour." Violet Wells, author of Ponte Santa Trinita and Burnt Ochre.
"Full of historical flavour, mystery and imagery. You can hear the crowds, taste the dust, feel the gore of the bull's horns. Wonderful, lyrical prose, worthy of ancient Greek myth." Cas Peace, author of King's Envoy, published by Rhemalda Publishing