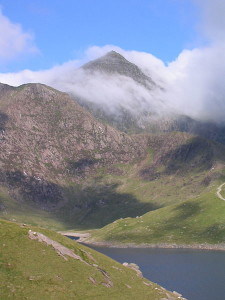 Wales … snow covered mountains, deep lakes, hundreds of miles of coastline, and a long and brutal history of rebellion and conquest.
I love history and reading about history, but real history often ends badly for the heroes.  Consequently, when a story involves a main character who dies an unpleasant and premature death, it can be difficult to craft a tale that is an enjoyable read.  This is particularly true of books set in medieval Wales.
Few endings have had a greater impact on the progress—or lack thereof—of a country than the death in 1282 of Llywelyn ap Gruffydd, the last Prince of Wales.
With his death, King Edward I of England set about eliminating Welsh language, culture, and history to the best of his ability, even to the point of expunging any mention of the Welsh royal court from public documents.  He took the crown, the piece of the true cross, and even the title, Prince of Wales, which from then on would be bestowed on the eldest son of the King of England.
My After Cilmeri series takes the ambush and murder of Llywelyn ap Gruffydd, throws in some time travel, and asks what if?  What if Llywelyn survived?  And what might then happen to the two teenagers who save him?
I have now released six books in the After Cilmeri series, the latest being Exiles in Time, which carries the story onward into Scotland. In 'real' history, King Edward turned his attention to subjugating the Scots after he conquered Wales. Needless to say, that doesn't happen in my story.
Orson Welles once said, "If you want a happy ending, that depends, of course, on where you stop your story."
My problem is that I don't want the story to stop where it does—with the death of the hero.  The history and death of these great Welsh heroes are tales that desperately needed someone to rewrite them.  Or at least I thought so.
And so I did.
Sarah Woodbury, March 11, 2013